HE has come to accept his nomadic existence in the PBA. But make no mistake, James Forrester still dreams of one day finding a team that he can call home.
The oft-traded wingman's move from Blackwater along with Dylan Ababou to GlobalPort last week marked his third team that he's playing for in just a little over a year - and sixth franchise overall since becoming the fourth overall pick in the 2013 rookie draft.
"I'm a certified journeyman now," Forrester said with a chuckle in a phone chat with SPIN.ph on Thursday, a day after making his debut for the Batang Pier.
With all the travel, it's easy to understand why the 27-year-old cager is more careful when classifying a team as his "home."
"I feel this is a place where I can be myself, but I don't want to call it my home yet," Forrester admitted. "It's hard to call any team 'home' these days."
"But I hope I can find mine," he was quick to add. "I dream about it every day."
Forrester already committed the mistake when he had hoped for Blackwater to be his home after putting up a solid debut for the Elite in the Philippine Cup. After just a conference and three games into the Commissioner's Cup, the Elite sent him along with Ababou to the Batang Pier in exchange for Niño Canaleta.
Continue reading below ↓
Recommended Videos
But he holds no grudges against the Elite.
"I know it's a business. It was just about the teams' needs," Forrester, who also had stints with Ginebra, NLEX, Barako and Phoenix, said. "Blackwater needed a stretch four and GlobalPort needed wings."
"Honestly, I'm still blessed to be in the PBA," the Filipino-Canadian guard/forward added.
[See Dylan Abalou: 'Di bale na 'yung paulit-ulit kang ma-trade, basta may team ka']
Forrester, though, has to earn his spurs at GlobalPort as he played just five minutes and 13 seconds in his debut, missing his two shots and committing one turnover, although he grabbed one rebound and had one assist in the team's 113-96 loss to Ginebra.
"It wasn't as glamorous as you would hope for, but I'm happy to get my feet wet," Forrester said.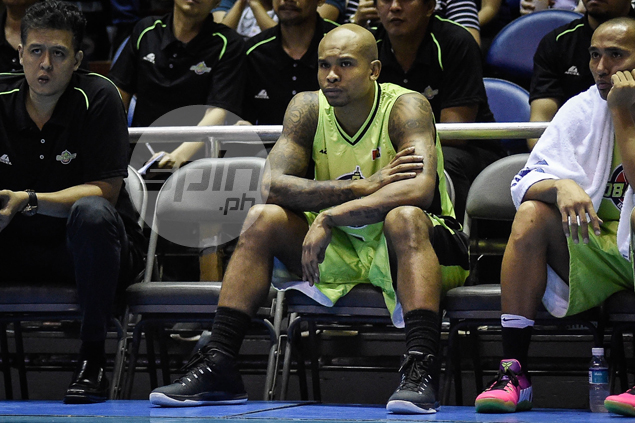 Just in practices alone, Forrester is already breaking plenty of sweat defending 'Slash Brothers' Stanley Pringle and Terrence Romeo, who, ironically, was picked behind the former Arellano star in the 2013 drafting.
Labelled as the steal of that draft when he was picked by Ginebra, Forrester now hopes to cut his defensive teeth while going up in practice against Romeo, who has become a full-fledged star at GlobalPort.
"Guarding Terrence and Stanley in practice will make me a better defensive player," Forrester said. "They move miles per minute. There's no stopping them. I'm playing with two of the best guards in the league. That's where I like to make a name."
The setbacks notwithstanding, Forrester is clinging to hope that, maybe, this move has led him "home."
"Overall, I'm excited for the opportunity," he said. "Coach Franz requested me, to my knowledge, and I'm hoping to repay that. Once I get settled in, I'm sure I'll do well."