FORMER PBA Best Import Sean Chambers found himself surrounded by some of the greatest players ever to have worn an Alaska uniform on Thursday night when the proud franchise celebrated its 30th year anniversary.
But outside of his so-called family, at least three notable Filipino players rank high on Chambers' list as the best he ever played against in his 14-year stint in the PBA.
One by one, the 50-year-old Los Angeles native mentioned Vergel Meneses, Alvin Patrimonio, and Allan Caidic as the three players who really impressed him while serving as Alaska's resident import from 1989 to 2001.
"One of the most successful and very skilled (player) is Vergel Meneses. I enjoyed watching Vergel Meneses," said Chambers of the 1995 league MVP, who he faced during the 1994 Governors Cup finals which Alaska won over Swift.
And then there was Patrimonio, the four-time MVP with Purefoods who now serves as the franchises' team manager.
"Alvin Patrimonio was amazing in what he was able to accomplish in his career, like moving from a post player to one who's shooting threes," Chambers said about the premier power-forward out of Mapua.
"He's just phenomenal."
[See Alaska honors '30 Greatest Players' to celebrate 30th anniversary in PBA]
Continue reading below ↓
Recommended Videos
Completing Chambers' list is the left-handed, deadly Caidic, whose 79-points explosion in November 21, 1991 still stands as the most points scored by a Filipino in a single game in the league's 41-year history.
"He was Stephen Curry before Stephen Curry," said a smiling Chambers. "He's a guy who can dominate a game just by being a three-point shooter and that's pretty hard to deal with."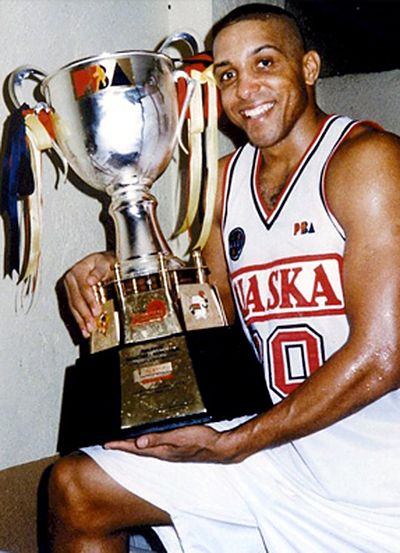 But short of admitting he is biased, the longtime Alaska reinforcement didn't fail to include former teammates Jojo Lastimosa and Johnny Abarrientos in his 'best players' list.
"I was lucky, not only did I have success, but I was playing with the best Filipino players at the time," recalled Chambers of his playing years with the team. "Johnny was the best point guard, Jolas was the best two guard, and Bong (Hawkins) was the best 'four' man in the league.
"So I was very lucky in that my team was the best at that moment in the 90s."
[See Sean Chambers recounts funny experience with Pinoy fans]
Chambers went on to win six titles with Alaska, including a rare grand slam in 1996, where he had the so-called 'Big Three' of Abarrientos, Lastimosa, and Hawkins as anchor of the team.
All four of them shared the stage on this night as part of the Top 30 Aces of All-time, with Chambers one of only five imports to make the list.
"It's good time always, it's good memories. Definitely the best moments of my life spent here in the Philippines," said Chambers, whose jersey No. 20 has been retired by the franchise.
Chambers is set to fly back to the US on Sunday.
PBA Updates