A SAN Mig team staff gained instant fame - or notoriety, depending on which side you're on - on Wednesday when he was called for a technical foul in the first half of Game Five of the PBA Governors' Cup Finals against Rain or Shine at the Big Dome.
Junjun Rillo was slapped with a technical foul - rare for a team staff - in the first half of Game Five after complaining furiously about a referees' stepping-on-the-endline call against San Mig star Marc Pingris.
Rillo was so furious about the call that he sprawled on the sidelines and used his hand to measure how far Pingris' foot was from the baseline, just to show to the referee that the call was wrong.
Rillo, who usually sits at the farthest end of the San Mig bench, was apologetic when he went to the press room to get the halftime statistics on behalf of the team.
"Nag-blackout ako," Rillo said smiling as he was ribbed by mediamen at the press room.
Rillo also recalled how Cone got mad at him.
"Get out, get out," Rillo said when asked what Cone said to him. To which he replied, "I'm sorry."
His technical led to a Jeff Chan free throw for Rain or Shine - a point that proved crucial as the two teams battled it out in a thrilling endgame in the final game of the season.
Fortunately for Rillo, he got a reprieve as San Mig won, 82-79.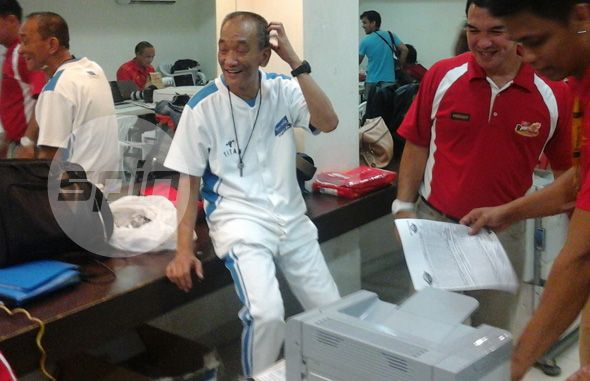 Recommended Videos