SAN MIG ballboy Junjun Rillo has found internet celebrity after a gaffe that could have cost his team a rare and coveted grand slam - and him his job.
The utility man, who has been with the team since the Purefoods days, became an online celebrity after he was meted a technical foul for arguing with the referee in the first half of Game Five of the PBA Governors' Cup title between the Mixers and Rain or Shine Elasto Painters at the Smart Araneta Coliseum.
The action of the overzealous ballboy earned him equal parts praise and ridicule from netizens as he became the subject of memes created after the incident by fans after his photos, taken by Spin.ph lensman Jerome Ascano and senior writer Reuben Terrado, were first shared online.
The photo showed Rillo sprawled on the court measuring the distance between Marc Pingris' foot from the baseline after the San Mig forward was called for an out-of-bounds call.
ADVERTISEMENT - CONTINUE READING BELOW ↓
The referees, who were none too pleased by Rillo's brazen display, called a technical foul on the ballboy. Rain or Shine's Jeff Chan sank what turned out to be a crucial free throw that could have proven crucial in the endgame.
Rillo, who fans said was one of the friendlier members of the San Mig staff during practices, was apologetic after the sudden burst of emotion.
"Na-blackout ako," he told sports scribes later.
But the issue took a life of its own as Spin.ph's photo went viral, with more than 22,000 shares at last count,
Rillo's technical foul, rare for a team staff, was used by San Mig supporters to counter accusations of perceived referee bias from rival fans. They said the ballboy should instead be praised for his loyalty since he was only trying to help his team win.
Rival fans, on the other hand, ridiculed Rillo since he could have cost San Mig the championship - and the grand slam - if the contest had been decided by a point.
ADVERTISEMENT - CONTINUE READING BELOW ↓
Many fans on both sides, however, were united in finding hilarity in an incident that added a humorous twist in an otherwise tense do-or-die game.
After the technical foul, Rillo was admonished by a furious coach Tim Cone who told him to "get out." After San Mig won the closely contested game 92-89, a more composed Cone told that Rillo's job was safe.
"He'll be around," a smiling Cone told Spin.ph's Terrado later.
However, Rillo's 15 minutes of fame may last longer since he has not been spared the notoriety of the internet memes. Here are some notable examples of the meres - all spawned by Spin.ph's photos by the way:
1. In the end, the distance was indeed pretty close.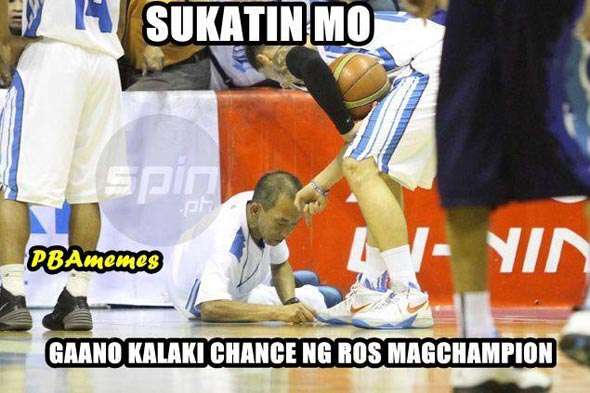 ADVERTISEMENT - CONTINUE READING BELOW ↓
2. It wasn't far enough, guys. Just ask the refs.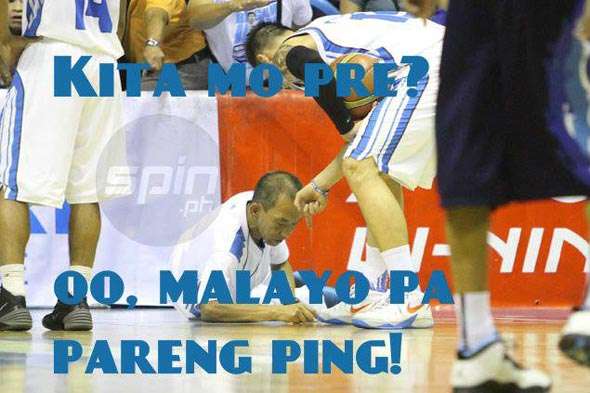 3. "Kuya" adds his two cents to the proceedings.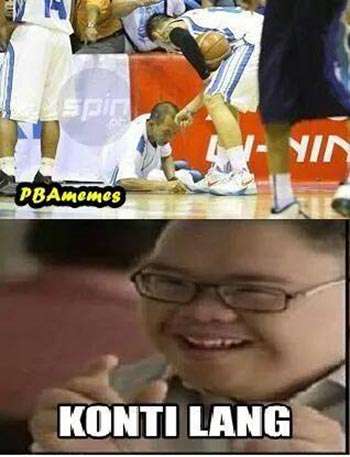 ADVERTISEMENT - CONTINUE READING BELOW ↓
4. Of course if there's McDo then Jolibee is not far behind. With something appropriate for the occasion.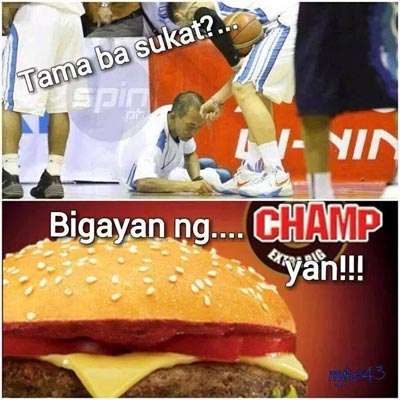 5. Ballboy Junjun Rillo also had a lot more at stake in Game 5. Maybe he should treat the players to some cheeseburgers.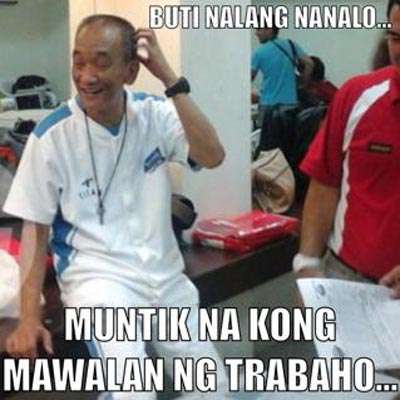 ADVERTISEMENT - CONTINUE READING BELOW ↓
PBA Updates