IT'S still a big mystery for Ryan Gregorio that team after PBA team overlooked Peter June Simon during the 2001 rookie draft.
While he did end up being picked by Sta. Lucia in the fifth round (No. 43 overall), the shooting guard from Makilala, Cotabato failed to hook up a contract with the Realtors, making him an automatic free agent.
For Gregorio though, Simon was a young, diamond in the rough whose basketball skill set by then was already 'complete.'
"I was impressed by his basketball instincts," said the PBA champion coach.
Simon has been on his radar that by the time he initiated a rebuilding at Purefoods, he didn't lose track of the former University of Mindanao wingman, who was then making a name for himself in the Philippine Basketball League (PBL) playing for Fash Liquid following a stint in the Metropolitan Basketball Association (MBA).
Gregorio was a frequent ringside spectator especially during the PBL Finals between Fash and a talent-laden Welcoat side that boasts the likes of Jojo Tangkay, Ervin Sotto, and future Purefoods teammates James Yap and Paul Artadi. Simon beat Yap and Rich Alvarez for the MVP plum and steered Fash to the championship.
"PJ couldn't be stopped. He took all of them to school and won," recalled Gregorio.
"The next day, I talked to Mr. (Rene) Pardo and said, 'Sign this free agent. This guy is legit.'"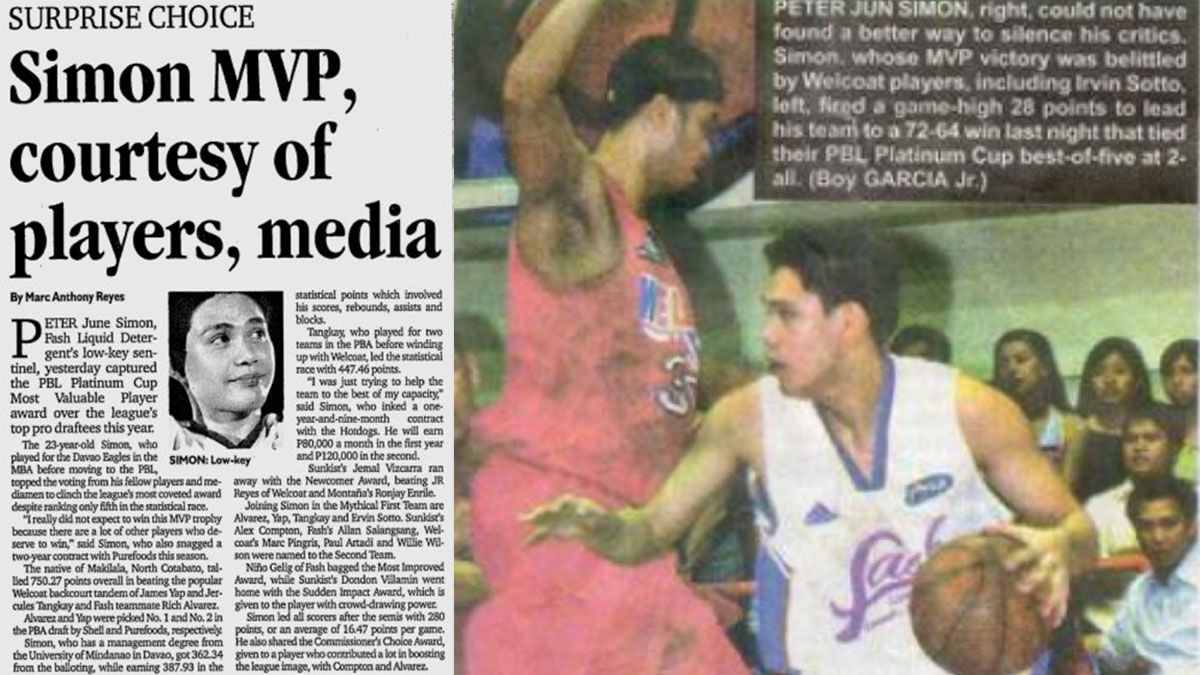 ADVERTISEMENT - CONTINUE READING BELOW ↓
The Hotdogs lost no time in securing the services of Simon, coming in as the perfect complement to a young, talented core as envisioned by Gregorio.
"That year, we were able to draft James at No. 2 and Paul (Artadi) at No. 11. Then we got PJ from the free agency. So, as if we got three blue-chip recruits that season," said the now retired coach, a current executive at Meralco and special assistant to Samahang Basketbol ng Pilipinas (SBP) president Al S. Panlilio.
A trade with FedEx later had Marc Pingris taking his act to Purefoods and form a splendid frontcourt with Kerby Raymundo.
"We had Kerby at the 5 spot, Ping at 4, and a solid 3-man and 2-guard rotation involving James, Noy Castillo, and PJ. And Paul and Roger Yap were out point guards," the 48-year-old Gregorio pointed out.
"PJ came off the bench. He was my super sub. He would come in and manufacture instant offense for us."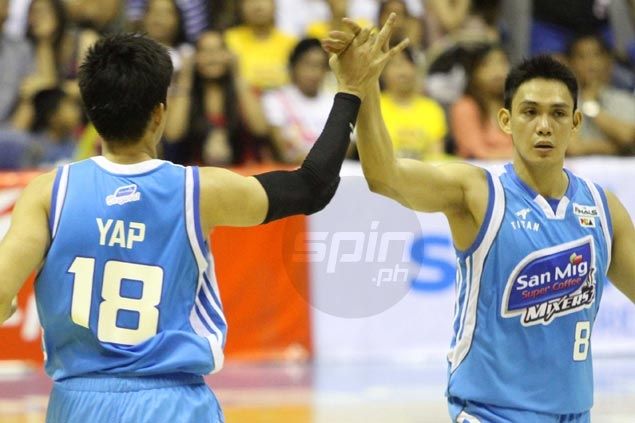 That same core would become the future of Purefoods for seasons to come.
Simon won two championships under Gregorio and went on to take an even more stellar role when he later became one-third of the team's Big Three along with Yap and Pingris. Their partnership produced five more championships with Tim Cone at the helm, including a rare grand slam in 2014.
In all, Simon won eight titles in 17 years as a pro, all of them with the Purefoods franchise. His last championship came during the 2018 Governors Cup, by which time his playing time was already dwindling.
On Wednesday, the 40-year-old soon-to-be father, officially announced his retirement.
Gregorio was more proud of how far Simon has gotten in his PBA career, which also saw him become a Mythical Second Team member, a two-time Mr. Quality Minutes, an eight-time All-Star, an MVP All-Star, and the reigning All-Star Three-Point Shootout champion.
ADVERTISEMENT - CONTINUE READING BELOW ↓
"Truly one of the best players that I have coached," he said. "Seventeen years after and many championships given to Purefoods, I am so happy to be proven correct."