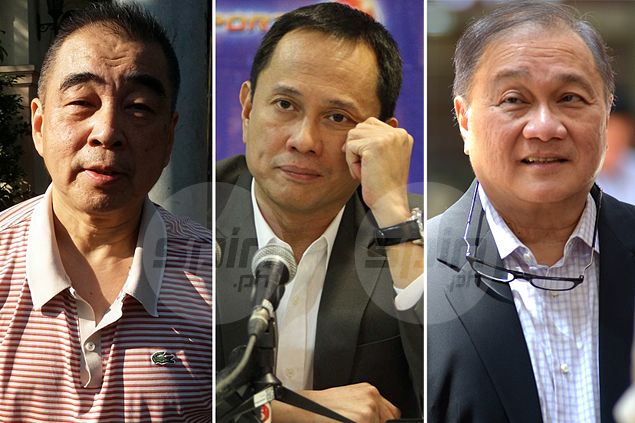 RUMOR: Chito Salud was forced to resign by a group of team owners disgruntled by his handling of 'lopsided' trades as well as of officiating.
FACTS: Questions continue to swirl around Chito Salud and his surprise decision to resign at the end of the season, but two prominent owners were quick to shoot down talk that the PBA commissioner was forced to stand down by 'disgruntled' members of the pro league.
According to the rumor, teams belonging to the Manny V. Pangilinan group, namely Talk 'N Text, Meralco, and NLEX, were supposedly ready to spearhead a move to vote out Salud at the end of his current term - a move that should get support from Rain or Shine, Alaska and a couple of other teams.
Rain or Shine's owners - again, according to rumors - have long been disillusioned with the commissioner since his handling of last season's draft lottery which eventually spawned the 'salamangkero' controversy.
Rain or Shine coach Yeng Guiao was the first to air his doubts on the lottery that saw Salud pick out a ball that belonged to GlobalPort, which eventually used the top pick to select prized Fil-Am combo guard Stanley Pringle from the rookie draft at the start of the season.
[See Guiao hits out at draft lottery's lack of transparency, class]
Rain or Shine co-owner Terry Que, however, was quick to dismiss the rumor, saying the ballclub has long put the controversy behind it.
"Hindi na namin naiisip 'yun. Tapos na 'yun eh," Que told Spin.ph on Monday. "Yung isyu sa lottery, wala na sa amin 'yun. Hindi na rin namin kinikimkim 'yun."
Que in fact bared that when Salud approached him and business partner Raymund Yu after the Rain or Shine-NLEX game last February 3 to inform them about his plan to resign, they even tried to convince the league commissioner to re-evaluate his decision.
"Kinausap nga namin siya eh. Actually nung sinabi niya sa amin na magre-resign na nga siya, nagulat kami, pero ilang ulit namin siya sinabihan na pag-isipan niyang maigi, kasi gusto pa namin siya na commissioner eh," Que bared.
"Talagang hangga't maari, ayaw namin siya ni Raymund na umalis. Kasi okay talaga ang pagpapatakbo niya ng PBA. Sumigla ulit," he added.
The MVP group supposedly has a bigger reason to be unhappy with Salud, from the many trades deemed 'lopsided' by not a few fans involving rival teams from the San Miguel Corp. bloc as well as accusations of 'favoritism' by referees hurled last month by Talk 'N Text coach Jong Uichico.
[See Uichico on disappointment over ref's calls: 'It's a given when you're playing the SMC group]
The last straw, according to rumors, were the trades that paved the way for the return of Alex Cabagnot to San Miguel Beer as well as the word war that even dragged MVP's top lieutenant, Ricky Vargas, into the fray.
We asked no less than Pangilinan himself about the perceived Salud bias toward San Miguel teams on the day the commissioner announced his resignation, but he was quick to shrug it off.
"I think we should give him peace, he will be retiring, I think we should just let it go, right?" said the popular sportsman-businessman.
Instead, Pangilinan revealed that he, too, asked Salud to reconsider his resignation plan.
"I was surprised. I was surprised because I didn't expect that," he said. "In a way I tried to ask him to reconsider and even asked him why is he retiring."
The media head of Smart Sports, Virgil Villavicencio, also dismissed insinuations that the Office of the Commissioner favors one particular group.
"I don't think so (that he favors San Miguel). I think Chito is a man of integrity and honor. I don't think he has favored one group or organization. Never did it cross our mind at the MVP group," said Villavicencio,
"That (accusations) is just unfair for the commissioner. We should delve more on what he has done for the league, his good deeds and achievements eclipse the negative ones," he added.
Salud himself told Spin.ph there was no pressure on him to resign from any of the teams, reiterating that he felt it was time to pass on the leadership to new faces that could take the league to greater heights.
"I have done my role. I am happy that there are some who appreciated my tenure, my decisions and the legacy that I will leave. But it's time to go. It's time to give others the chance," said Salud.
"Ayaw ko namang mag-stay pa para magpapogi na lang. Nagawa ko na ang mga dapat kong gawin and I am happy to have done my share," he added.
Salud said he would rather let others judge his legacy in the league.
"If that is how people see my legacy, I am happy, I am fulfilled. It's them (board), the league observers and the fans who will at the end of the day judge my tenure. Did I succeed or not? It's you who can answer," he said.
Here's a video of team owners speaking about Salud's resignation: