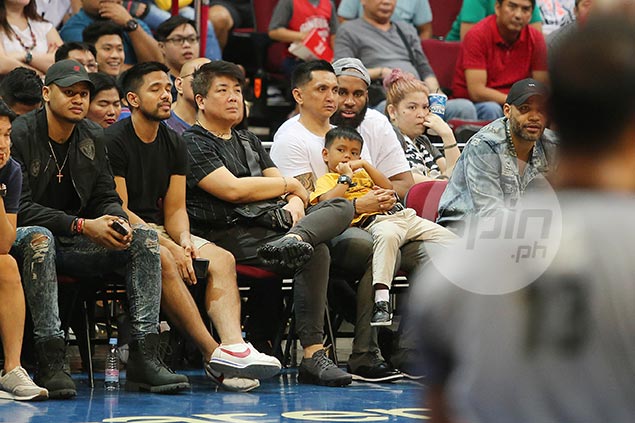 RUMOR: Jimmy Alapag is about to join the coaching staff of one of the three SMC teams in the PBA?
FACTS: Speculations that Jimmy Alapag may soon become a member of the coaching staff of a team under the San Miguel Corp. umbrella have been going around for months now, long before the former Gilas Pilipinas captain led Alab Pilipinas to a maiden Asean Basketball League (ABL) title.
The thought, at first, seemed incredulous for some basketball fans who saw Alapag spend all his 13 PBA seasons with the TNT and Meralco teams from the rival MVP bloc - and played his most memorable basketball with Gilas, which, of course, is controlled by the same group.
But Alapag's ties with SMC no doubt warmed during the course of his coaching debut in the ABL, where Alab had to be rescued after its main sponsor, Tanduay, bailed out early in the campaign.
It is no secret that Alapag played a major role in San Miguel coming in as a new backer of Alab, thanks to the help of longtime Gilas backcourt partner LA Tenorio.
Next, Alab got the services of former Petron import Renaldo Balkman and resident Ginebra reinforcement Justin Brownlee as world imports replacing Ivan Johnson and Reggie Okosa four games into the season.
Through all of these, Alapag stayed silent.
However, speculations got louder when Alapag attended Sunday's game between San Miguel and Ginebra at the Mall of Asia Arena, watching from the VIP section with Alab team owner Charlie Dy and two-time ABL Local MVP Bobby Ray Parks as Balkman and Brownlee faced off in the 2018 PBA Commissioner's Cup.
Curious, we tossed the question to the former PBA MVP.
Alapag gamely answered, but made it clear that there are no negotiations whatsover about the possibility of joining the coaching staff of either San Miguel, Ginebra, or Magnolia.
"There's no dialogue right now," he said. "Obviously, the San Miguel group has played a big part in supporting us. Right now, I'm working on focusing for the next season of Alab."
At this point, the teams under the SMC umbrella are enjoying impressive seasons and no one seemed in dire need of a new coach. In fact, all three teams have an abundance of former point guards as coaches.
Beermen head coach Leo Austria and deputies Ato Agustin and Boycie Zamar were playmakers in their heyday. Olsen Racela, now an assistant for Tim Cone at Gibnebra, was also a premier playmaker back in the day.
The same can be said of the Magnolia Hotshots, which has guards-turned-mentors in head coach Chito Victolero and assistants Johnny Abarrientos, Tony Boy Espinosa, and Jason Webb.
But that doesn't mean the organization won't covet the chance to have an up and coming coach like Alapag in its fold, right?
But for now, Alapag insisted there are no formal talks between him and SMB. But he's also in the basketball business long enough to never say never.
"We'll see. Nothing as of now," Alapag said.