MICHAEL Miranda may have been hardly apologetic for kicking Chris Ross in the groin in a heated battle won by San Miguel Beer over NLEX last Friday in the PBA Philippine cup.
Still, the Beermen guard forgave the Road Warriors enforcer but not without firing some shots of his own.
After Miranda was slapped a P20,000 fine and a one-game suspension, the NLEX forward told SPIN.ph on Tuesday that he just got carried away in the heat of the ill-tempered match that led to his kick on Ross.
"Hindi ko alam. Part naman ng game yun, bahala na sila dun," Miranda responded when asked if he had plans to apologize to Ross.
The 32-year-old Ross, however, experessed his disbelief on his Twitter account on Wednesday that Miranda would consider such a flagrant act 'part of the game.'
"Part of basketball?! Never was taught that part," said Ross in his retweet of the SPIN.ph interview with Miranda. "Could possibly ruin someone's future by kicking in that area."
"It's ok I accept your apology and send prayers your way!" he added.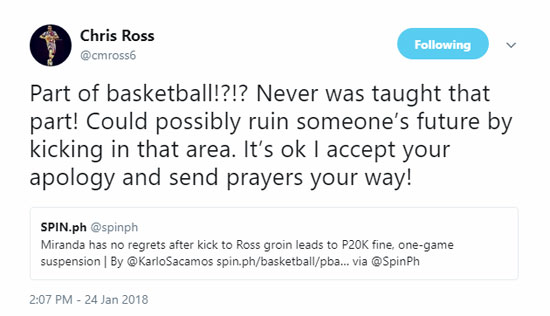 Continue reading below ↓
Recommended Videos