ALEX Cabagnot and Chris Ross are confident that Terrence Romeo can easily blend in with the championship-winning core at San Miguel.
"That's the kind of guy you want on your team," said Ross. "You want somebody who's gonna go out there and compete every night."
"One good thing with Terrence is his work ethic. That's one thing that I can say is really second to none for him, how he approaches the game and how he prepares himself for the games. He continuously works on his game and that's always a good thing," added Cabagnot.
He should know. Cabagnot spent a little over a year with the spitfire guard during Romeo's sophomore season at GlobalPort back in 2014 where the two, together with then-rookie Stanley Pringle, formed the Batang Pier's fierce three-guard lineup.
"I've been teammates with him and Stanley and judging by just his talent alone, I already know then that he's a good player," he said.
Romeo went on to become a three-time scoring champion and called up to the national team as he established himself as one of the league's rising stars.
The past season wasn't pretty, however, for the former FEU star, blowing his top a number of times in his stops at GlobalPort and TNT. His emotions even led to a number of shouting matches, of note were his exchanges with Batang Pier coach Pido Jarencio as well as San Miguel sniper Marcio Lassiter.
Continue reading below ↓
Recommended Videos
Reports even surfaced that Romeo got physical with some of his TNT teammates that escalated to him falling out of grace with the team and eventually, out of the KaTropa camp.
Ross believes that some of those instances only manifested Romeo's desire to win.
"When you're competing and stuff doesn't go your way sometimes, you get into an altercation. And that's fine with me as long as you're a good teammate and we're all on the same side, everything's fine," he said.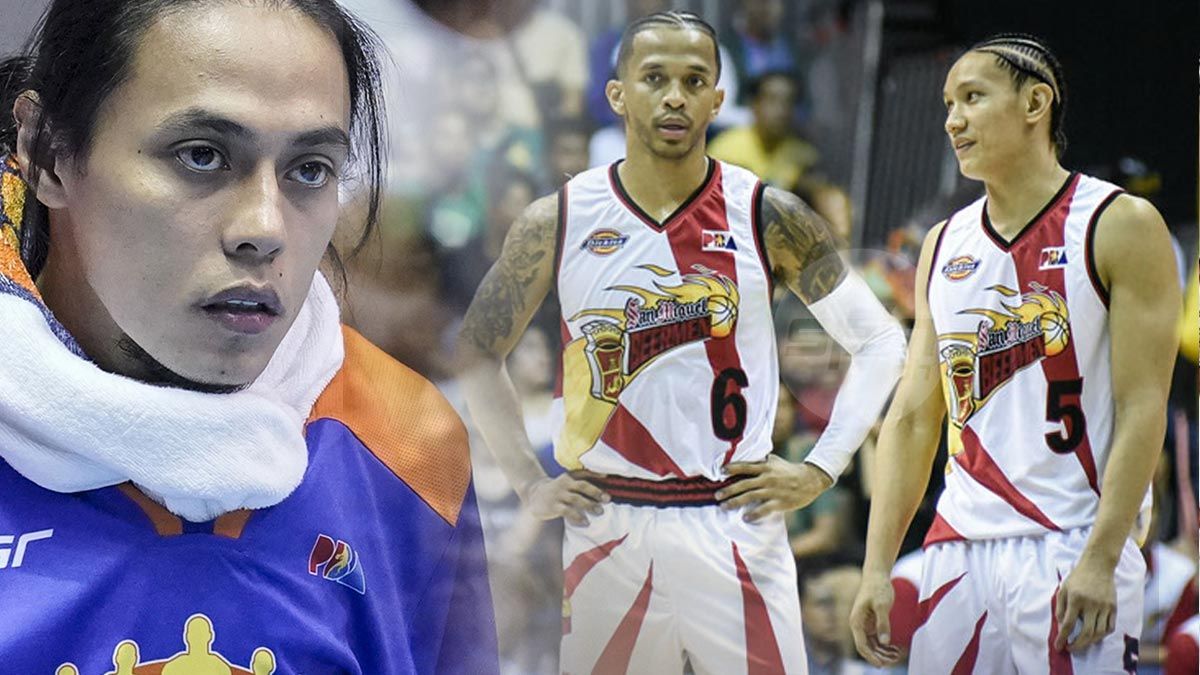 The two-time Defensive Player of the Year has also done his part in reaching out to the San Miguel newcomer, with Ross sharing positive feedback from his initial conversations with Romeo.
"I talked to him a little and he's ready to come on board, he's ready to move on with his career, he's excited to work with us, and he's excited to play for a championship. He's saying all the right things right now," he said.
"Like I said before, he's a really talented scorer and he's a really talented player. So we have to find a way to integrate him into the way we play and into our system, try to win as many ballgames as we can, and try to enjoy the journey to our main goal. I'm sure he'll get on board and I'm sure hes excited to be a part of a team whose culture is winning and winning championships."
For the San Miguel backcourt tandem, Romeo starts with a clean slate with the Beermen, and both hope that the super scorer's arrival would prolong their stranglehold atop the PBA mountain.
"Whatever problems his previous teams had with him, we'll try to fix those things coming over here," said Ross. "It's a new chapter in his career, and we have a lot of vets that are established in this league and are willing to help him with his career."
Cabagnot ended: "A sign of a great player is on how he adjusts and how he adapts. And I think he has the adaptability to do it with us and still do his brand of game here in San Miguel."