RAIN or Shine rookie guard Chris Tiu waited a long time to play his first game as a pro.
Unfortunately, it ended even before it could really start.
The celebrated 27-year-old rookie shook his head in frustration as he limped off the court at the halfway mark of his debut game for the Painters after hurting the same hamstring that had curtailed his play in the preseason.
"Injuries are always frustrating. But I just have to go through this and do better in my therapy," Tiu told Spin.ph inside the Painters dugout.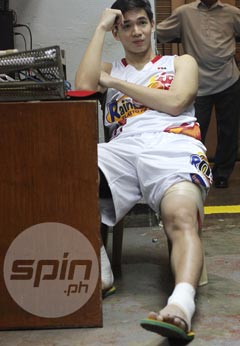 Tiu had scored his first PBA basket and issued two assists when he emerged from one play clutching his left leg. He asked to be taken out of the game at the 6:01 mark of the second quarter and walked slowly back to the bench. He did not return.
Continue reading below ↓
Recommended Videos
The former Ateneo star said he suffered the injury on the same leg but on a different part of the hamstring and team doctor JT Calinawan said Tiu will most likely sit out a minimum three games as he undergoes therapy.
"I just have to go back and have my therapy and make sure my left leg heals well before I go back and play. I really need to be patient and be persevering," said Tiu.
Tiu said he was sad to let down both the fans and the team, which was counting on the former Smart Gilas mainstay to fill the void at point guard while last year's top rookie Paul Lee recovers from shoulder surgery.
"I'm just sad because I know our fans and our team owners were excited to see me play," he said.