THE ribbon-cutting ceremony is done, so are the photo opportunities and the simple rites celebrating the launch of Ginebra's travelling exhibit to mark the company's 180th anniversary. But for the special guest, there was one final business to take care of.
Robert Jaworski, former Ginebra playing coach and to this day the brand's top endorser, gathered the current members of the PBA ballclub one by one and - just like the old times - gave them an impromptu pep talk in the middle of the celebration.
Standing out in a bright red long-sleeved polo shirt, the basketball legend, 68, talked about "sacrifice" and the team concept as Ginebra's current players, among them Mark Caguioa, Greg Slaughter, LA Tenorio, Japeth Aguilar, and Jay-R Reyes, nodded approvingly.
"Sacrifice is an aspect of team basketball we all have to be a part of. It determines our success in the long run and we have the opportunity to restore the faith of our fans now that we're in playoff contention," said the former senator.
The Big J's pep talk couldn't have come at a better time for Ginebra, who, after wasting two opportunities to lock up a Top 4 spot and twice-to-beat advantage in the PBA Governors Cup playoffs, now faces a do-or-die game against third seed Alaska on Wednesday.
The Hall of Famer's words were also timely.
Continue reading below ↓
Recommended Videos
At a stage when the Gin Kings' struggles had seen Slaughter admitting the team was playing "selfishly" and Aguilar ruing being involved in a critical inbound play which he shouldn't have been a part of in the first place, Jaworski implored the team to start playing as a team.
"Let's change our ways and be a team, because this is our legacy we are trying to build," he told the players. "At the end of the day, it will always be how you are remembered that matters."
After the talk, Ginebra players started leaving one by one as Jaworski stayed around for a few more minutes posing for photos with SMC employees and signing autographs for fans.
Now all he could hope for is that the players got his message.
[See Jaworski says 'triangle' and run-and-gun offense can go well together for Ginebra]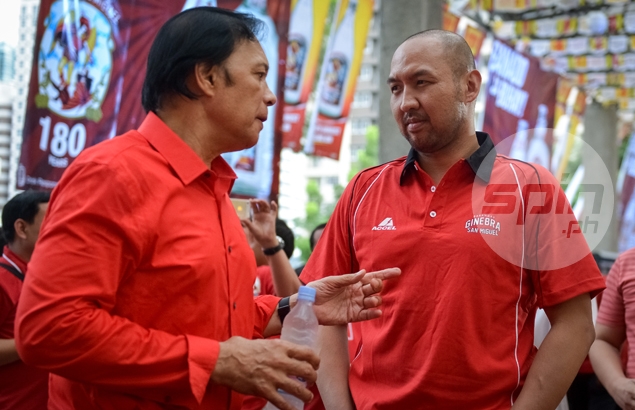 PBA Updates