National coach Chot Reyes has fired back at claims the Gilas program is being "selfish" by signing up Cliff Hodge and Chris Ellis to its cadet pool, stressing that the two top Fil-American prospects haven't signed any contracts with the national team since no cadet pool has been formed in the first place.
Reyes, who is concurrently coach of professional ballclub Talk 'N Text,  said D-League stars Hodge and Ellis were actually tapped to join a national squad formed by the Samahang Basketbol ng Pilipinas for next month's Seaba qualifying tournament for the Stankovic Cup in September.
He stressed that contrary to reports, no player has signed up for the cadet pool which the SBP plans to form in tandem with the national squad made up of professional players.
"Wala pang cadet pool at this time, so how can we sign up players like Hodge and Ellis?" said Reyes. "I think people misinterpreted the formation of the team for the Seaba and made their accusations based on wrong assumptions."
Alaska interim coach Luigi Trillo had earlier turned to Twitter (@luigitrillo) to express his disgust over news that Hodge and Ellis had been tapped for the cadet pool, tweeting, "I find what Gilas is doing is very selfish. They get the PBA pros 1st then they have a cadet pool barring those picked from joining PBA draft."
Alaska, which is headed to its first losing record (see By the numbers column) over the past 18 seasons, had lent LA Tenorio, Mac Baracael and Sonny Thoss to Reyes' 16-man national pool. The Aces are hoping to strengthen their lineup next season through the rookie draft, where they hope to get the No. 1 selection overall.
"We our lending our best pro players. The drft is our only chnce to strengthn our line up. Why deprive teams who are willing to lend?" Trillo tweeted.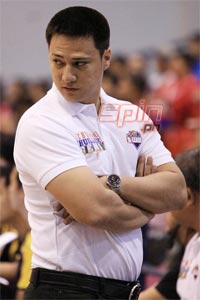 He added: "Cadet pool is not needed to win a Seaba."
Trillo's tweet has since been retweeted by former Alaska coach and now B-Meg mentor Tim Cone (@manilacone).
However, Reyes quickly responded through his own Twitter account @coachot, saying the accusations came from "misinformed parties basing their remarks on inaccurate press reports."
Reyes later told Spin.ph that Hodge, Ellis and other pro-bound D-League stars were tapped to join regulars Marcus Douthit and Chris Tiu in the PH team in lieu of pros and college stars since the July 3-July 7 Seaba tournament runs in conflict with the PBA and college basketball seasons.
"I don't know what [Hodge and Ellis']  decisions are (with regards to joining the PBA draft)," Reyes told Spin.ph. "But it's up to them. Pero let me stress na wala kaming pinipigilan."
As for the national cadet pool, Reyes said the plan is to tap mostly college players who "are a long way away from turning pro." Among those being eyed for the pool are Ateneo's Kiefer Ravena and National University's Bobby Ray Parks.
Like members of the original Gilas team which mostly ended up in the pro ranks, Reyes said players in the cadet pool will be given the freedom to choose their own paths after their tours of duty with the national team.
"I don't see any unfairness or selfishness there," Reyes said.
The PLDT group has reportedly spent P150 million for Rajko Toroman's three-year program with Gilas and the Manny Pangilinan-led company, insiders said, has committed another P100 million to the national team under Reyes.
"Doon nga sa original na Gilas, wala mang nakuha ni isa ang Talk 'N Text. Ang Meralco (Talk 'N Text's sister team) isa lang — si [Jason] Ballesteros. Ang Alaska nakuha naman si Baracael," Reyes said.