IT was a question straight out of a fantasy match. Rico Maierhofer was just being real in his reply.
Without batting an eyelash, the lanky big man said there was no doubt in his mind the 2008 La Salle team would beat Ben Mbala and the rest of this year's batch of Green Archers, which just won Season 79 of the UAAP men's basketball championship.
Maierhofer's team was the last La Salle unit to lose to chief rival Ateneo in a finals showdown, a defeat finally avenged by Mbala and Co. on Wednesday night following a sweep of the Blue Eagles in the best-of-three title series.
While proud of what the current Archers had achieved, Maierhofer, 31, was sure his team can compete – if not defeat – the newly-crowned UAAP champions.
"Kumpiyansa ako yung season namin nila JVee (Casio), kaya rin namin kasi siyempre player din tayo, hindi tayo magpapatalo," said the Globalport big man, selected No.2 overall in the 2009 Rookie Draft.
ADVERTISEMENT - CONTINUE READING BELOW ↓
"Time namin before, time nila ngayon."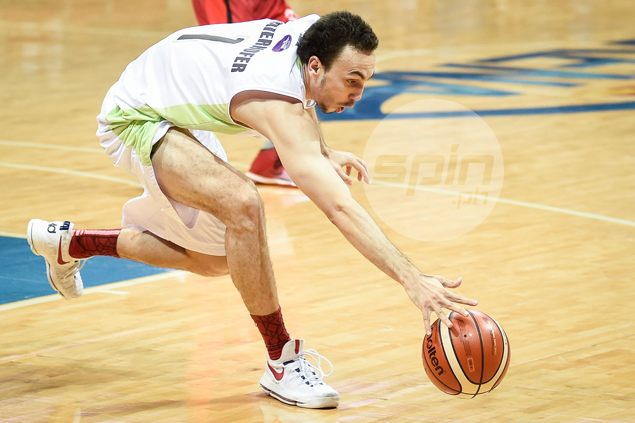 "Siyempre kami yun," Casio agreed.
[See La Salle championship makes three-year wait well worth it for 'Big Ben' Mbala]
Everything was for curiosity's sake. Truth of the matter is, Maierhofer said he's very proud seeing the UAAP trophy going back to Taft Avenue.
"Naramdaman ko na yan before. Alumnus tayo kaya proud ako sa kanila at sa buong community ng La Salle," said Maierhofer, who had two points in the Batang Pier's 95-84 loss to the Alaska Aces in the PBA Philippine Cup also on Wednesday night.
ADVERTISEMENT - CONTINUE READING BELOW ↓
"Bilib ako sa mga La Salle players. Lahat ng nagre-represent ng La Salle, bilib ako sa kanila," Casio added.
Animo La Salle, as they say it.
PBA Updates