RENALDO Balkman can now resume his once promising PBA career.
The league has lifted the lifetime ban on the talented import after finally getting the nod of former commissioner Chito Salud this week, according toi mutiple sources who declined to be named pending an official announcement from Commissioner Willie Marcial.
The commissioner later confirmed his decision in an official statement published on the PBA website.
The 33-year-old former NBA player was banned by Salud from playing in the PBA again following the choking incident he had with then Petron teammate Arwind Santos during a Commissioner's Cup game between the Boosters and the Alaska Aces in 2013.
On top of the lifetime ban, he was also fined a total of P250,000.
Balkman, who once had stints with the New York Knicks and Denver Nuggets, had since apologized to Santos, his teammates, the entire San Miguel management, the PBA, and to Filipino basketball fans.
Prospect of his PBA ban being lifted was revived early this year when the Staten Island, New York native came back in the country to play as import for Alab Pilipinas in the Asean Basketball League (ABL).
The camp of Balkman later approached Marcial to talk about him being pardoned by the league. While the new commissioner was receptive to the idea, he said as a respect, everything would all depend on the decision of Santos and Salud.
Continue reading below ↓
Recommended Videos
"He was apologetic and gave assurance for his behavior on and off the court," said Marcial, who was personally visited in the office by the talented import. "He has matured since the incident now that he's 33."
Santos made it clear he has long let go of the incident with Balkman and said the import is always welcome to return again in Asia's first ever play-for-pay league.
SPIN.ph sources later said people close to Balkman had already written Salud a personal letter seeking his understanding and pardon that would help pave the way for the comeback of the Puerto Rican to the PBA.
On Sunday, Marcial admitted about the letter being forwarded to Salud but said the former commissioner has yet to respond about the matter.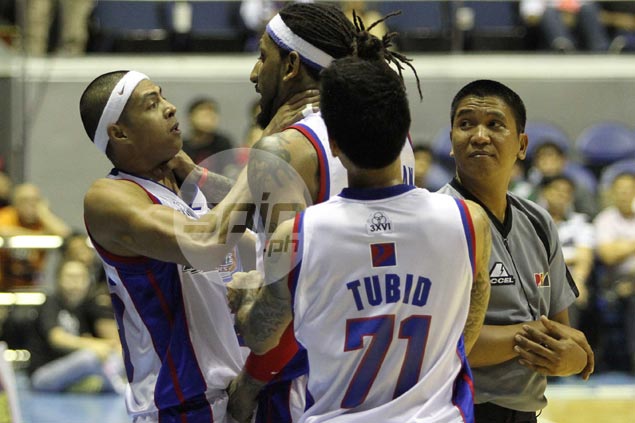 Apparently, the Holy Week was the perfect time for Salud to forgive and forget.
"I trust that he has learned his lesson and has become a better person and a more disciplined athlete. Good luck to him," said Salud in a statement released by the league.
San Miguel still owns the playing rights of Balkman in the PBA.