SOME records are meant to be broken, while others will hold as an eternal remembrance of greatness so dominant and one-of-a-kind.
Take for example, Ramon Fernandez.
'El Presidente' holds most of the PBA records that seem unthinkable to break: He's the all-time scoring leader with 18,996 points, almost 10,000 ahead of Mark Caguioa and James Yap - the active players closest to him on the list. He's played the most minutes in league history with 36,624, twice the mileage Yap has served on the court.
The four-time PBA MVP also owns the record for most total rebounds with 8,652, and the only remaining active player in the top 10 is the ageless Asi Taulava, with 6,589 boards under his belt — good for fourth overall and 445 rebounds behind third place Jerry Codinera. And Fernandez is the league's top shotblocker of all time with 1,853 swats — Arwind Santos is the nearest active player at 10th place with 636.
If that doesn't convince you of Fernandez's greatness, how about the fact that the 19-time PBA champ is also second all-time in steals (1,302) and assists (5,220)? Fernandez is the only member of the 15K points-8K rebounds-5K assists-1K steals-1K blocks club. Unreal.
But where does the recent dominance of June Mar Fajardo come in?
Well, the San Miguel star is not as prolific a scorer, or as good a passer, as Fernandez. Despite averaging 17.2 points in his young career, Fajardo has only scored 3,585 total. If he hopes to break Fernandez's all-time scoring record someday, Fajardo has to average 20 points per game in at least 46 games per season for the next 17 years.
ADVERTISEMENT - CONTINUE READING BELOW ↓
One catch: Fajardo's career-best scoring clip was in the 2016 Philippine Cup when he normed 24.75 points. He's never averaged over 20 in a conference before or after that run.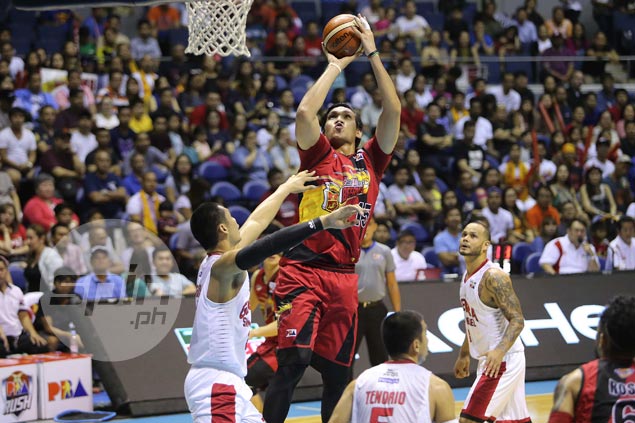 Still, there's one Fernandez mark the Cebuano giant has a shot at surpassing.
In just his fifth season, Fajardo, 27, has already won three straight MVPs and on track to match, or even surpass, the record of four MVP awards shared by Fernandez and Alvin Patrimonio. The 6-foot-11 behemoth is also on track to reach or break Fernandez's all-time rebounds mark.
The five-year pro has grabbed a total of 2,616 rebounds entering the 2017 PBA Commissioner's Cup, 6,036 short of Fernandez's record. But a dive into the stats will show that Fajardo could be on pace to set the new standard.
In 213 games played, the SMB big man norms 12.3 boards an outing. Averaging 46 games played in the past four seasons, Fajardo has grabbed more than 500 rebounds per season. Fernandez, in contrast, has collared 432.6 boards per year in 20 seasons.
Barring injuries and assuming a steady rebound rate, something along the career path of Taulava, Fajardo could breach the record in his 17th season. By then, he will be 39.
Here's the possible scenario:
Put Fajardo's rebound total in four seasons then add the total of 13 seasons where he averages 500 rebounds per season. In numbers: 2,248 + 6,500 = 8,748. That's 96 more than Fernandez's record.
Now that scenario assumes a lot of things and gives room to many variables, like the eventual dip in Fajardo's production as he ages, and then there's the total number of games he'll play depending on his team's success.
But it's also fair to point out that Fajardo's rebound rate in the last Philippine Cup was his career-high so far at 14.2. He has not shown signs of slowing down yet, and has even bounced stronger after a dip in rebounding last year.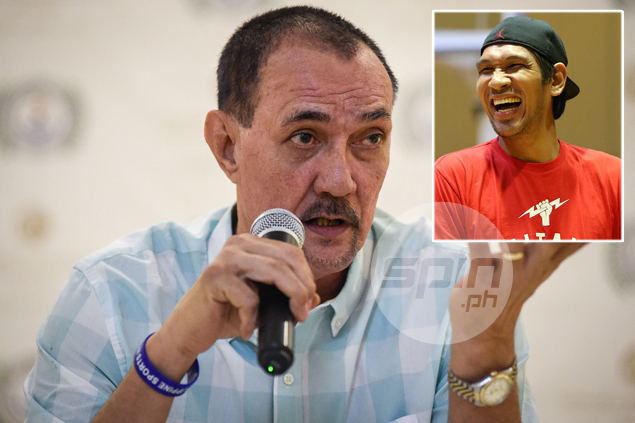 ADVERTISEMENT - CONTINUE READING BELOW ↓
Make no mistake, the Beermen's titan has his best years ahead of him, which bodes well for his bid to break his mentor's record.
Still, here's something certain, Fajardo can join Fernandez among the greatest big men to ever play in the PBA looking at where the Gilas Pilipinas stalwart can end up by the time he hangs up the sneakers — which is a long time from now, as Philippine basketball fans hope.
Fernandez and Abet Guidaben are the only members of the ultra-exclusive 15K points-8K rebounds club. Bring down the bar to 10K points-5K rebounds-1K blocks and you get the elite trio of Fernandez, Codinera and Philip Cezar as the only members so far, but not for long.
Fajardo has 3,585 points and 358 blocks so far. Again, if the SMB center can keep up his production, with a slight decline, in hopefully a lengthy career, he'll end up completing the Mt. Rushmore of the PBA's greatest big men.