FIFTY-POINT games are now a rarity in the PBA. Fact is, the last two 50-point performances in the league happened four years apart.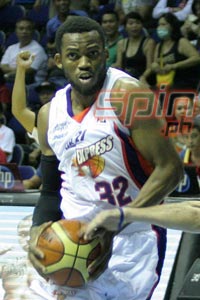 Last Friday, Air21 import Zach Graham had 51 points in a 128-121 win over Powerade that ended his team's four-game losing streak in the PBA Governors Cup.
Graham, a former University of Mississippi standout, went 3-for-6 from three-point range, 11-for-24 from the two-point area and made all but one of his 21 free-throw attempts to almost singlehandedly carry the Express to the win.
The 23-year-old Graham became just the first player in the PBA to break the 50-point barrier since Purefoods import Darius Rice tallied 56 in a 127-126 double overtime win over Magnolia in the Fiesta Conference on April 2, 2008.
Prior to Rice, the last player to record a 50-point game was Asi Taulava who recorded his career-high 51 points while still with Talk 'N Text on May 16, 2004 in a 131-105 rout of Purefoods in the inaugural Fiesta Conference.
              * * *
Graham has scored at least 31 points in each of his seven games for Air21 so far in the season-ending third conference. He is also averaging an incredible 39.0 points per game.
Those numbers are the highest in the PBA since Derrick Brown averaged 40.4 points for Sta. Lucia in the 2004 Fiesta Conference, the same conference where Taulava had his 51-point game.
A former Purefoods import, Brown scored at least 38 points in 15 of his 16 games for the Realtors in that conference, including a streak of nine straight highlighted by a 57-point performance in a 120-99 loss to San Miguel Beer on April 25, 2004.