BRUNO Sundov hopes his height and his seven-year NBA experience can make a difference as he bolsters an undersized Rain or Shine frontline when the PBA Commissioner's Cup kicks off on February 8.
Considered as the tallest-ever import to grace the 38-year-old pro league, the 7-foot-3 Sundov said he is happy to join the short but fighting Rain or Shine squad in the season's second conference.
"It's always good to be on the top three teams of the league. I'm glad to be part of this (team). I hope to come to the same point (Finals) also next conference," Sundov told Spin.ph just before the Elasto Painters left the dugout for Game 4 of the PBA Philippine Cup Finals.
Sundov said he's heard a lot about how Rain or Shine has been espousing team play under coach Yeng Guiao, saying this could easily help him transition smoothly into the PBA.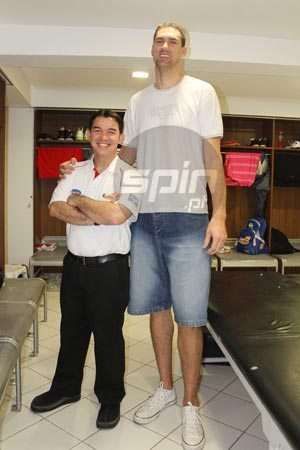 "Whatever they need me, I'll do it.  I've been talking to some people around and they tell me there are many unselfish players, a lot of passing the ball and looking for open man. I did not come here to score 50 points," said the long-limbed Sundov.
"I can shoot threes, because that's what I do for some teams I played for. I think in this team they're gonna need me to play under the basket because they need some height, but if I'm open, I won't fail to take it (three-point shot)," he added.
Incidentally, Rain or Shine's two other big men, Beau Belga and JR Quinahan, are also capable of hitting three-pointers.
The 32-year-old Sundov, selected in the second round and 35th overall by the Dallas Mavericks in the 1998 NBA draft, said he's heard how physical the PBA games are.
And considering he's had an opportunity to go up against the ultimate NBA physical force Shaquille O'Neal during his prime, Sundov said he has no problem playing the PBA brand of play.
"It's (the NBA is) physical that's for sure, but you'll get adjusted to it. I have no problem with the physical part. Today is a good day to see how they (teams) play (in the Finals). Coach will also send me links but it's good to see it live because basketball is just the same (anywhere)," explained Sundov.
Sundov hails from Split, Croatia, the same place that produced basketball heroes Toni Kukoc, who won NBA titles with the Chicago Bulls, along with Dino Raja and Zan Tabak.
"I watch the home people because I grew up in Split. There had been many NBA players who came in that town like Toni Kukoc, Dino Raja and Zan Tabak.  They won the Euro League three times. Every day, I watch them in the backyard, watched them win and so I grew up with them," he said.
Aside from playing for the Mavericks, Sundov also saw action for the Indiana Pacers, the Boston Celtics, the Cleveland Cavaliers and the Knicks. He averaged 1.7 points and one rebound per game over his NBA career.