ONCE is enough.
Rain or Shine made sure on Friday night Manny Pacquiao won't be 'posterizing' the team anew after holding the Mahindra playing-coach without a field goal in his brief stint on the floor during their PBA Governors Cup game at the Smart Araneta Coliseum, which the Elasto Painters won, 103-88.
The 37-year-old Pacquiao actually only had a rebound and never got open for a single attempt in the four minutes that he played bridging the third quarter and earlier part of the fourth quarters.
The boxing icon is playing the Elasto Painters for the first time since scoring against them – off four-year guard Chris Tiu – for his first ever field goal in the pro league during a 108-94 loss against Rain or Shine during the Philippine Cup.
"Niloloko nga namin si Chris," Paul Lee recalled of the incident. "Sabi namin forever nasa YouTube ka na."
Here's a photo of that memorable Pacquiao basket: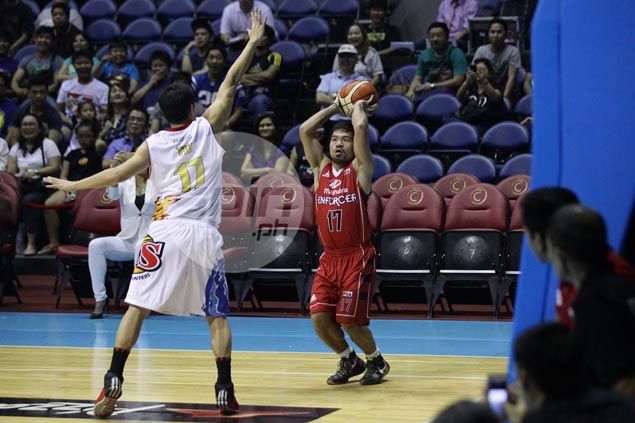 Continue reading below ↓
Recommended Videos
Pacquiao didn't suit up for a single game in the mid-season Commissioner's Cup when he focused on his third fight against Tim Bradley and his campaign for a seat in the Senate.
Tiu incidentally, wasn't around as the Elasto Painters snapped a two-game skid to even their record at 4-4, as the shooting guard out of Ateneo was down with the flu.
Asked what if Pacquiao scored against them one more time, Lee had an emphatic answer.
"Sigurado sisigawan kami ni coach Yeng (Guiao)," he said.
[See This is one on-court Pacquiao sequence that must've scared the hell out of Bob Arum]
The 'Angas ng Tondo' finished with 12 points, half of them in the fourth period when Rain or Shine outscored Mahindra, 35-25, to finally put the game away.
Pacquiao meanwhile, went scoreless in his brief stint on the floor.
During the final play of the third quarter, the Pacman boldly attempted to save the ball from going out of bounce, but made the wayward pass to Jewel Ponferrada that led to a easy one-handed slam by Gabe Norwood to end the period with the Elasto Painters on top, 68-63.