A total of P62,000 in fine was meted by the PBA Commissioner's Office Friday on players involved in separate incidents during the highly-physical Philippine Cup game between Rain or Shine and Meralco Wednesday night at the Araneta Coliseum.
The Rain or Shine pair of JR Quinahan and Ryan Arana bore the brunt of the fines handed out by commissioner Chito Salud as both were slapped P20,000 each for committing flagrant foul penalty 2 on Bolts Sol Mercado and rookie Cliff Hodge.
Quinahan was called for an F2 following the vicious blow he delivered on a driving Mercado in the third quarter, while Arana committed the same violation for kicking Hodge on the groin as he went for a basket late in the game.
The two were ejected out of the game.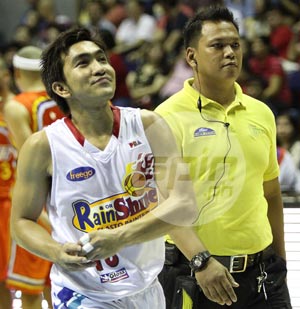 Arana and Quinahan, however, were spared from being suspended and are expected to suit up when the Elasto Painters face Barangay Ginebra Kings on Sunday.
Rain or Shine teammate Larry Rodriguez received a P5,000 fine for a flagrant foul penalty 1.
Meanwhile, Hodge and fellow rookie Kelly Nabong received the heaviest fine on the Meralco side with P5,000 each after committing F1s.
In all, five personalities were fined on both teams, including Rain or Shine coach Yeng Guiao, who accounted for P2,400 for committing his third technical foul of the conference for using profanity.
Others who were penalized include Mercado (technical foul - P1,600), MacMac Cardona (P1,000), Jay-R Reyes (P1,000), and Ronnie Matias (P1,000).