QUALITY over quantity.
That was the response Spin.ph received on Twitter from one reader from University of the East in reaction to the story we ran about the collegiate schools with the most number of alumni on the PBA's active roster.
In the tally we conducted, Ateneo emerged as the school which has the largest number of former players currently in the roster of pro league teams, followed by Far Eastern University and De La Salle.
[See Ateneo has most number of former players in current PBA active roll]
But in terms of quality, one good measurement, the Spin.ph reader volunteered, is the number of times a school's player or players had won the MVP award in Asia's first ever play-for-pay league.
The reader from UE is in for a surprise, however. While the Red Warriors share the honor of having the most number of MVPs, UE and all other schools for that matter trail this one school in terms of number of MVP trophies.
That distinction belongs to Mapua, which has slipped off the radar in the college leagues with one miserable season after another since winning its last NCAA championship in 1992-93.
The Cardinals have a total of six MVP trophies including the record four won by former King Cardinal Alvin Patrimonio (1991, 1993, 1994, 1997) and one each from former Crispa stars Atoy Co (1979) and Freddie Hubalde (1977).
Continue reading below ↓
Recommended Videos
Co, incidentally, is the current coach of Mapua in the NCAA.
Tied for second on the list are University of San Carlos of Cebu and UE - two teams which, ironically, carry the moniker Warriors.
Cebu's USC Warriors only had one player who won an MVP plum in Ramon Fernandez, but 'El Presidente' won the league's highest individual award four times in a long, legendary career.
In contrast, the UE Red Warriors had three different players to win the MVP in Robert Jaworski (1978), Allan Caidic (1990), and James Yap (2005-2006, 2009-2010).
[See Curse of the Triggerman: the long, frustrating search for the next Allan Caidic]
Also interesting to note is that players from Cebu schools have won MVP award seven times through Fernandez, Abet Guidaben (1983, 1987), and June Mar Fajardo (2013-2014).
With the influx of Fil-foreign players, foreign-bred players have accounted for seven MVP trophies, the first of which was won by ex-Northern Consolidated Corp. stalwart Ricardo Brown in 1985.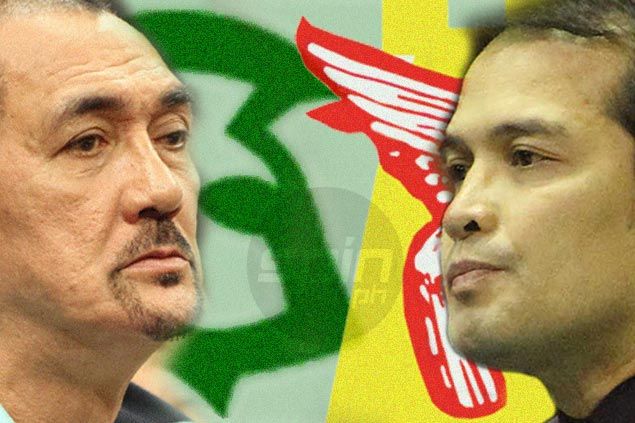 Curiously, Ateneo, FEU, and De La Salle - the top three schools which have the most number of active players in the PBA - only have a grand total of two MVP winners.
Johnny Abarrientos became the first FEU player to win the PBA MVP in 1996 followed by Arwind Santos in 2012-2013.
Former Ateneo and La Salle players have yet to win an MVP award.
Here's the complete list:
1. Mapua (6): Alvin Patrimonio (4), Freddie Hubalde, Atoy Co
2. USC (4): Ramon Fernandez (4)
3. UE (4): James Yap (2), Robert Jaworski, Allan Caidic
4. UST (3): Bogs Adornado (3)
5. University of San Jose-Recoletos: Abet Guidaben (2)
6. UP (2): Benjie Paras (2)
7. FEU (2): Johnny Abarrientos, Arwind Santos
8. JRU (2): Philip Cezar, Vergel Meneses
9. NU (2): Danny Ildefonso (2)
10. Letran (2): Willie Miller (2)
11. Lyceum (1): Ato Agustin
12. Adamson (1): Kenneth Duremdes
13. University of Cebu (1): June Mar Fajardo