PUREFOODS is a champion no more.
Meralco put a shocking end to Purefoods' dream run with a 77-65 victory over the Hotshots on Thursday at the Cuneta Astrodome, sealing its place in the next round of the quarterfinals of the PBA Philippine Cup.
The Bolts went on decisive runs in the third and fourth quarters to come away with the victory, in the process stopping the Hotshots' bid for a fifth straight championship.
Meralco went on an 8-0 binge in the third period to break a 44-all tie and start the breakaway. The Bolts went berserk again, going on a 15-6 run to start the fourth for a 71-54 lead.
Purefoods looked only a shade of the team that won the grand slam in the 2013-2014 season when it was still the San Mig Coffee Mixers. The Hotshots can't buy baskets in the critical fourth quarter, missing on easy field goals and free throws.
The game was all but decided in the final minutes that all Purefoods coach Tim Cone asked from his players during one timeout was "to finish strong."
"This is a huge win for the Meralco program. It is something that we strived to accomplish," said Meralco coach Norman Black. "It's just a huge win to beat the defending champions."
Continue reading below ↓
Recommended Videos
"I told the boys at the beginning of the league that in order for us to make it to the semis, we have to beat the teams that you are supposed to beat and split with the teams above you. We really haven't done a good job of beating the teams above us so it's just a huge win for us to beat Purefoods," said Black.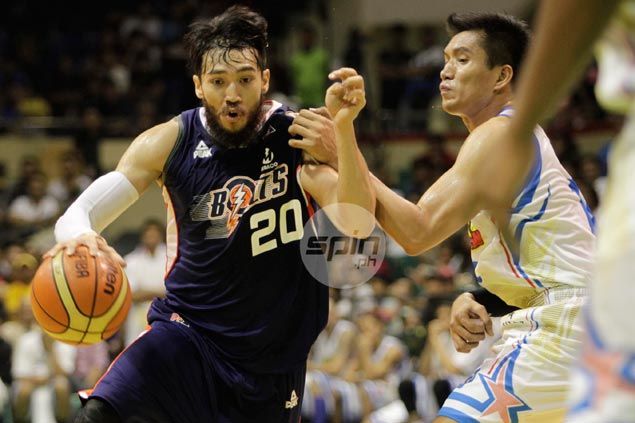 With the huge victory, No. 6-ranked Meralco arranged a knockout match with Alaska for a place in the semifinals.
On the other hand, Purefoods also made the earliest exit by a defending champion in a tournament since Alaska in the 2008 Fiesta Conference. Ironically, both teams were coached by Cone.
Jared Dillinger scored 14 points to lead a balanced attack by the Bolts. Cliff Hodge added 12 points while Mike Cortez and JR Sena notched 11 markers for Meralco.
Joe Devance had 21 points for Purefoods but could not provide a spark for the Hotshots, who shot just 22-of-61 from the field including a 5-of-26 clip from three-point range.
The scores:
Meralco (77) — Dillinger 14, Hodge 12, Cortez 11, Sena 11, Wilson 8, Hugnatan 7, Buenafe 4, Caram 4, David 4, Anthony 2, Macapagal 0.
Purefoods Star (65) — Devance 21, Yap 14, Barroca 12, Taha 7, Simon 5, Pingris 5, Melton 1, Pennisi 0, Reavis 0, Mallari 0, Maliksi 0.
Quarterscores: 18-19, 35-30, 56-48, 77-65.