PRINCE Ibeh being the last line of defense and Robert Bolick at the forefront of the offense.
That synergy is what convinced the NorthPort import to make a PBA comeback for a chance to complete unfinished business with the Batang Pier.
The London-born Nigerian big man admitted having several other playing opportunities that he declined to play with an elite scorer like Bolick once again.
Prince Ibeh on tandem with Bolick
"I love it," Ibeh said of his tandem with Bolick. "He's a big reason I came back here. I had a lot of other offers. I almost went to Japan. But I knew we had some chemistry together. We play well together."
"And I kinda feel like we had some things we could've accomplished that we didn't, and we have another chance at it," he added. "I like playing Robert a lot."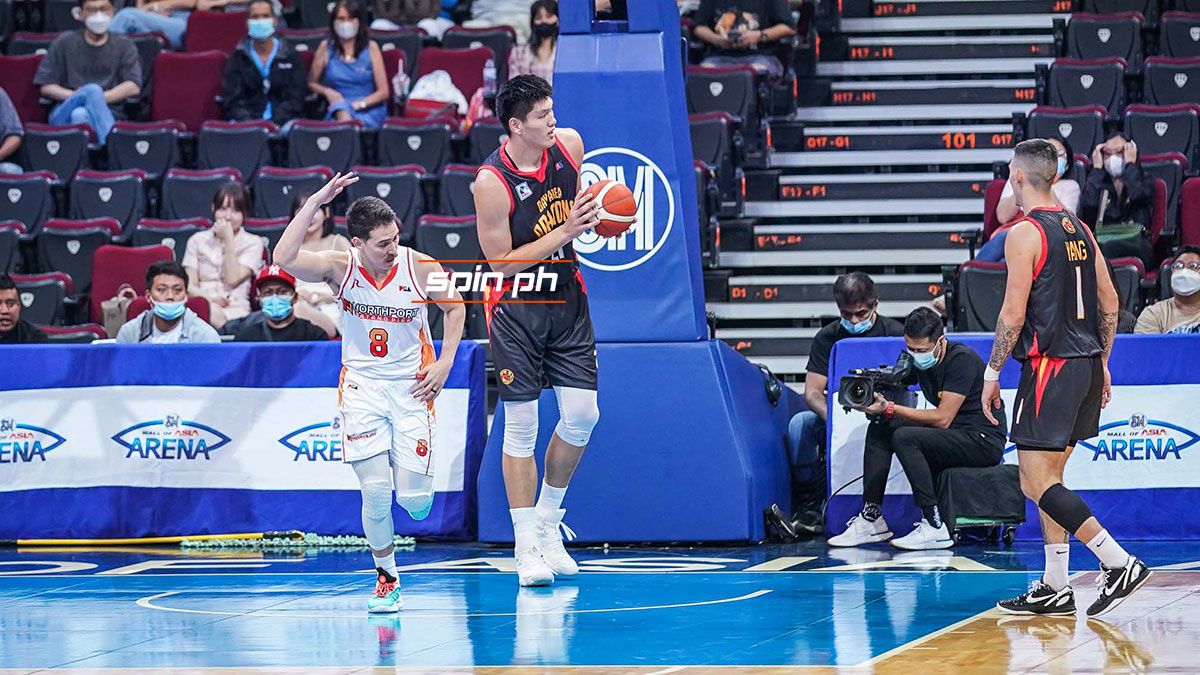 ADVERTISEMENT - CONTINUE READING BELOW ↓
With Bolick and Ibeh leading the way in the 2019 Commissioner's Cup, the Batang Pier posted their best eliminations finish in franchise history with a 9-2 record to clinch the second seed and a twice-to-beat edge. NorthPort, however, wasted the incentive and surrendered to No. 7 and eventual champion San Miguel in the quarterfinals.
Ibeh hopes the Batang Pier have learned their lesson.
"Just to kind of finish the job and have that focus," the 28-year-old Texas product said. "I never had the mentality to get complacent, but I feel like as a team, we maybe took our foot off the gas pedal. I got to be sure to provide some leadership and make sure that doesn't happen this time around."
The 6-foot-10 Ibeh continues to be the defensive anchor that NorthPort had been missing, leading the ongoing midseason tournament in blocks (4.3) and field-goal percentage (72.7%) apart from averages of 13 points, 12.3 boards, two steals, and 1.7 assists in almost 40 minutes of play in his first three games.
ADVERTISEMENT - CONTINUE READING BELOW ↓
With Ibeh having the locals' backs, Bolick has focused on what he does best: carrying the offense, evidenced by his 44-point explosion in a come-from-behind 101-95 win over Meralco last week that improved their record to 2-1.
NorthPort could've even been 3-0 if not for Myles Powell's tough dagger three that led Bay Area to a 105-104 escape
"Si Prince lang talaga eh. Siya kasi yung anchor sa depensa namin," Bolick said. "Dahil sa kanya, ang daming nali-libre, daming nababakante. Siya talaga yung malaking rason bakit kami maganda pag nandyan siya."
Bolick, however, is refusing to get way ahead of himself, knowing the tougher battles ahead.
"Ayaw ko muna magsalita ngayon, naji-jinx parati eh. Dati kasi parati kaming 2-0, 2-0, tapos six-game losing streak kaagad. A game at a time lang kami. Sana tuloy-tuloy lang," the Batang Pier star said.
PBA Updates