A LOT has changed in Chris Ross' game since he arrived in the Philippines 10 years ago as a promising Filipino-American playmaker.
Starting out as a defensive lynchpin, Ross has since added a dependable offensive game into his arsenal to mark his transformation to a complete player.
But in the decade the San Miguel Beer star point guard has been here, one thing has remained constant off the court: his barber.
Ross has always turned to Hildo 'Boy' Fernandez Jr., a former Bruno's Barbers employee who has decided to freelance and make house calls full time, slowly growing a clientele of PBA standouts.
The 32-year-old cager recently had his hair trimmed on the sides and back by Fernandez after an SMB practice at Acropolis gym in Libis where his barber paid him a visit.
"That's my guy," Ross said of Fernandez. "He's been cutting my hair since my first year out here, 2007."
The 6-foot-2 guard said he knew about Fernandez from his earlier clients Jimmy Alapag, Harvey Carey, and Ali Peek, who all pointed to their guy from the popular barber shop.
"I went there and go into the shop a few times and whenever I need him to come to me, I will call him to come to me," Ross said. "And we've had a pretty good relationship ever since."
Continue reading below ↓
Recommended Videos
Since then, Ross doesn't let anyone else touch his hair.
"When I was in the States, I had literally one or two barbers growing up and I was strictly with those guys," the San Antonio native related. "It's weird, but it's like cheating on your girlfriend if you go to a different barber."
"It was tough coming here and trying to find someone to cut my hair, and luckily I found Boy the first few months I was here," he added. "It's really been a blessing.
"If not, my hair would be crazy," he continued with a chuckle. "I would not cut my hair not once since I've been here. It'll be 10 years' worth of growth."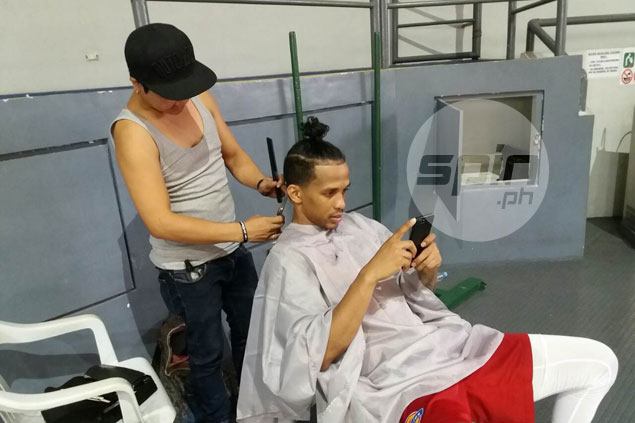 Fernandez charges P500 for home service, but he usually lets his cager clients pay him however much they would give him.
Among them are Ross' SMB teammates Matt Rosser, Brian Heruela, and June Mar Fajardo, as well as other PBA cagers like Chris Newsome, Ryan Reyes, Roger Pogoy, Stanley Pringle, Nino Canaleta, and Mike DiGregorio, apart from Alapag and Carey.
Asked if he's planning to go mainstream like another favorite barber shop of PBA players in Lar's Republic, Fernandez said he has thought about it, but is enjoying being on the field for now.
"Iniisip ko rin yun, pero parang mas nage-enjoy ako dito sa home service. Siguro soon pag may magandang opportunity," he said with a smile.
"Okay naman ako dito," the 40-year-old father of five added. "Ito yung kinabubuhay namin."
And to help keep Fernandez's business thriving, Ross recommends him to his other friends.
"I try to get him customers as far as whoever wants their hair cut, home service," Ross said. "He's usually good with being accommodating to everybody."
Armed with a fresh look every now and then, Ross has one less concern to worry about on the court as he keeps his focus solely on helping the Beermen to a coveted grand slam this season.