PHOENIX Super LPG pulled off a grind-out win over Rain or Shine, 90-88, to secure the second seed and twice-to-beat advantage in the quarterfinals of the PBA Philippine Cup at the Angeles University Foundation Sports Arena and Cultural Center.
Jayson Perkins scored the go-ahead jumper with 33.1 seconds left to highlight a gritty Fuel Masters comeback - and open a lead they maintained until the final buzzer at the end of the single-round eliminations inside the league bubble.
With the victory, the Fuel Masters took solo second behind Barangay Ginebra with an 8-3 win-loss record, dodging a bullet as it looked for the most part as if they would lose not just the game but also twice-to-beat advantage in the quarterfinals.
A loss by Phoenix by eight points or more against Rain or Shine would've given the Elastopainters and five-time defending champion San Miguel the incentive.
But the Fuel Masters avoided complications with the come-from-behind win to complete what has been an impressive campaign in Topex Robinson's first conference in charge.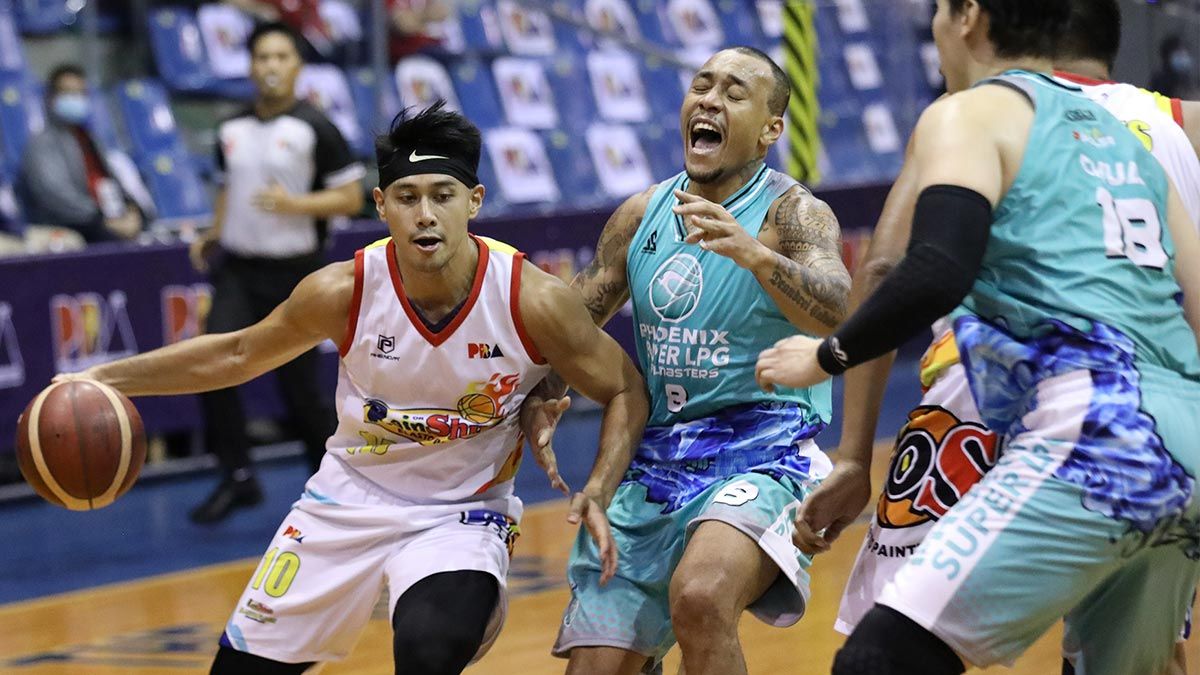 Continue reading below ↓
Recommended Videos
It was an unfortunate result for Rain or Shine, which went from a possible twice-to-beat incentive to slipping to No. 8 at the end of the eliminations - and a date with top seed Ginebra in the quarterfinals.
The Fuel Masters, meanwhile, will face seventh-seed Magnolia, with third-seed TNT taking on sixth-ranked Alaska and fourth-place San Miguel battling fifth-seed Meralco in the quarterfinals scheduled to begin on Friday.
"Getting the number two is just a by-product of what we've worked for," said Robinson. "We know that it's going to be a big challenge from hereon. If teams don't want to take number two, we'll always going to take it, we are always going to fight for it."
Phoenix trailed by as many as 14 points before Matthew Wright, Calvin Abueva, Justin Chua, RJ Jazul and Perkins led the brave fightback.
Perkins finished the game with 30 points and eight rebounds in a heroic effort. Chua continued his stellar play with 21 points and 10 boards, while Wright had 11 points and eight assists.
Mocon and Jewel Ponferada had 13 points each in a losing cause as the Elastopainters failed to protect a 78-64 lead down the stretch.
"When we were down, our focus was just to make stops. If you are going to think about the whole game, mahihilo ka rin. You'll gonna get worried but we have to trust these players that when we say stop, we are going to focus on making stops," Robinson said.
"The moment we made stops, we were able to run," he added.
The scores:
Phoenix Super LPG 90 – Perkins 30, Chua 21, Wright 11, Abueva 7, Jazul 6, Intal 5, Heruela 3, Garcia 3, Napoles 2, Rios 2, Marcelo 0, Mallari 0.
Rain or Shine 88 – Mocon 13, Ponferada 13, Belga 12, Yap 8, Nambatac 7, Torres 7, Onwubere 6, Doliguez 6, Arana 6, Borboran 4, Norwood 2, Rivero 2, Rosales 2, Wong 0, Tolentino 0.
Quarters: 21-24; 46-42; 59-66; 90-88.