THE level of physicality in the PBA may have risen by several notches and fights among players have erupted one too many times in practices and in games, but a consultant insisted league action has not gone out of control.
Asked about the opinion of enraged fans who feel that PBA matches have turned into veritable 'Hunger Games,' league technical consultant Perry Martinez said comparing league matches to the violent movie with a 'game of death' theme is taking it too far.
In fact, Martinez said the level of physicality in the pro league right now is exactly the kind that fans want to see.
"It (Hunger Games type of play) was never the intention, but what we are here for is the brand of play, which is what the Filipinos want," Martinez told Spin.ph. "You go to Europe, you see mas pisikal pa sila 'run. Hindi pansin ng karamihan 'yun, kasi mas exposed tayo sa NBA.
"If you combine the NBA and the European brand of play, that's Philippine basketball. We have our own variation. You go to the streets, ganyan ang laro," he added.
"Actually, ang dami kong nakakausap at ang daming nagsasabi sa akin na napakaganda ng mga laro sa PBA ngayon. Kasi it fits the taste of Filipino basketball fans because we play the brand of Pinoy basketball here."
Continue reading below ↓
Recommended Videos
[See Taha accused of punching Rain or Shine import as fight mars yet another PBA tune-up game]
Despite the rash of fights that have marred games in the last PBA Philippine Cup playoffs as well as league-sanctioned tune-up matches, Martinez said officials are still very much on top of the situation.
Games go overboard sometimes because teams tend to push the boundaries in terms of what level of physicality is allowed under league rules and what is not, Martinez added.
"The PBA is physical because the players and the teams tend to explore what is allowable," said Martinez, who was also Sports 5's technical resource person during the coverage of the last Philippine cup finals.
Martinez admitted there are some calls that escape the scrutiny of referees, but he assured the technical staff take care of it during the review of the games led by PBA commissioner Chito Salud himself.
"You cannot guarantee na walang mangyayari. Ang importante, pag may nangyari, our referees should be on top of the situation," he said.
"If some are saying na walang control ang mga referees, bakit pinapanood pa rin tayo ng tao. In fact, nabuhay nga ulit ang PBA in terms of fan support and television ratings," said Martinez.
[See Fajardo vows no more 'Mr. Nice Guy' after taking a beating in PBA Finals]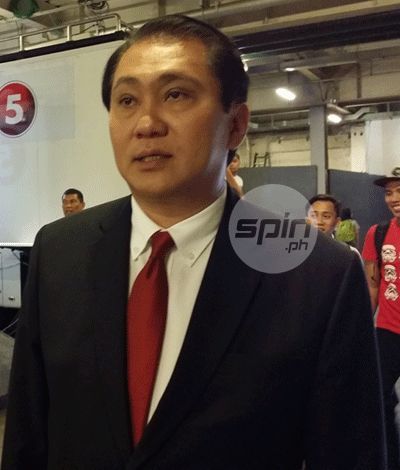 "Again, I go back to the ratings and records of the games. Kasi yan ang gusto ng mga Pinoy na panoorin. The validation is the number of people who watch the PBA," he said.
"Yung mga nanonood ngayon, napaka-maalam sa basketball ng mga 'yan, hindi natin pwedeng isubo sa kanila ang hindi katakam-takam sa panlasa nila. Just pure and simple, kahit anong pilit natin sa kanila, hindi nila tatanggapin 'yan kung ayaw nila. Kaso, the numbers speak for themselves, PBA has been resurrected.
"So validation yun na tinatanggap talaga ng mga Pilipino ang style ng laro ngayon sa PBA," he said. "In fact, I don't even want to call it physicality. It's basketball. You have to be physically ready to compete the way it is played in this league."
Asked about the concerns of some coaches like Tim Cone and Yeng Guiao whose teams were involved in the third fight-marred tune-up game on Friday, Martinez said the worry of these coaches is not about the level of physicality but about the consistency of the referees' calls.
"It's natural for the teams to test the boundaries of physicality the league allows. Even if I am the coach, I will also do that. Pero pag may lumagpas, that's where our officials should be able to address," he said.
"But I don't think the coaches are complaining about the physicality, pero philosophically, the physicality has been there in the league. Tatlong taon na nating ginagawa 'yan," he said.
"Kung mapapansin mo naman si coach Yeng, his complaint was (about) the inconsistencies (of the refs) and we are working on that," said the former head of the PBA technical staff.
[See Martinez: Calvin Abueva good for PBA and good for Philippine basketball]
Martinez also assured the league is doing everything to improve officiating, from seminars held for PBA officials by international referees and a penalty system put in place for erring officials.
Every conference, the PBA has reprimanded and suspended game officials who have committed glaring lapses while calling the games, martinez assured.
In the last Philippine Cup finals alone, only eight from the original pool of 16 were allowed to officiate in the title playoff between Alaska and San Miguel Beer.