GINEBRA coach Tim Cone and GlobalPort counterpart Franz Pumaren were both stunned to receive technicals after trying to break up a spat between LA Tenorio and Terrence Romeo late in the Gin Kings' 96-85 win in the PBA Commissioner's Cup quarterfinals on Tuesday night.
"I've always felt that a head coach can only go on the court when a fight or a tussle breaks out because they can be peacemakers," said Cone. "No one else can go on the court but head coaches, that's always been the rule as far as I can remember.
"I was shocked when they gave me a T for going on the floor because you want to get somebody out there with authority who will break that up. Coach goes out there and says, 'Hey, stop it,' they'll stop," he added.
[See Cone plays down spat as 'two tough guys going at it']
Pumaren echoed the same sentiments.
"I was talking to Tim Cone, we were both shocked that we were given technicals. As far as I know, head coaches are allowed to enter the court. We were there not to create any fight or whatever," Pumaren said.
"All basketball, as far as I know, head coaches are allowed to enter to pacify the players. We're the only one allowed to enter just to make sure we put everything in order," he added.
Continue reading below ↓
Recommended Videos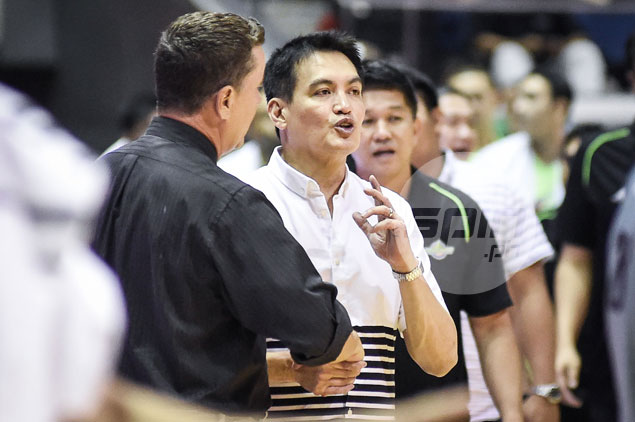 With Ginebra moving to the semifinals, Cone said he has an even bigger reason to enter the court and prevent his player from doing 'anything silly' that could jeopardize the team's chances moving forward.
"I just wanted to make sure that LA didn't do anything silly to get thrown out or get suspended for the next game. I had to take the technical foul and the fine that goes with it but I still believe that head coaches should be allowed, in those situations, to go on the court and protect his players from themselves basically," said Cone.
[See Flop? LA Tenorio insists he didn't overreact after hit from Romeo]
This is an issue that Cone hopes to clarify, especially with the mid-season conference entering its homestretch where emotions oftentimes run high.
"If I go out there and I start screaming at somebody or I starts getting involved and going after the other guy then fine, give me a technical. But not for going out to protect my players. I think Franz said the same thing to me at the end of the game, coaches are allowed to go out.
"Anyway, we'll see if it clarifies."