WE'VE been besieged with inquiries on the playoff chances of this or that team as the PBA Governors Cup eliminations hits its final stretch and the fates of Star, Ginebra, Meralco, KIA, Talk 'N Text and NLEX still hanging in the balance.
But we've held out from coming out with a scenarios piece only because the race to the playoffs - as well as the separate battle for the top four twice-to-beat places - were still way too complicated.
Today there are 128 remaining different scenarios, to be exact, no thanks to a tournament format that did away with playoffs in cases of ties and therefore throws the quotient system into play - not only in the race for quarterfinal places but also in determining the match-ups in the playoffs.
But with seven games to go, we've decided to make it simpler for those wondering if their favorite team will make the playoffs or not by coming out with these scenarios on the chances of the six teams of making the quarterfinals.
ADVERTISEMENT - CONTINUE READING BELOW ↓
At this point, only five teams - San Miguel Beer, Alaska, Barako Bull, Rain or Shine and GlobalPort - are assured of places in the knockout quarterfinals, with the Beermen and the Aces set to dispute the No. 1 seeding in a game to be played in Panabo City on Saturday.
These six teams will be merely playing for placings in the playoffs and the twice-to-beat privileges that the Top 4 spots offer.
The battle for the three remaining playoff spots is a lot more complicated, and this is where we decided to focus. But here's one important note: All these different scenarios were made assuming Star beats eliminated team Blackwater in their game on Tuesday.
First off, here are the current standings of the 12 PBA teams: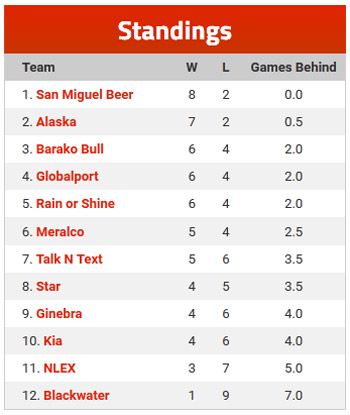 ADVERTISEMENT - CONTINUE READING BELOW ↓
And here are the remaining games in the single-round eliminations:
Game Saturday (Panabo City)
Alaska vs San Miguel Beer
Games Sunday
Star vs Barako Bull
Meralco vs Rain or Shine
Games Tuesday
GlobalPort vs Alaska
Blackwater vs Star
Games Wednesday
KIA vs Meralco
NLEX vs Ginebra
To make it simpler, let's discuss the playoff scenarios on a team-per-team basis:
* For Star, it will need to win just one of its final two games against also-ran Blackwater and Barako to make it to the quarterfinals. The Hotshots, in fact, can even earn a twice-to-beat place in the event of a three-way tie for fourth place at 6-5 (win-loss) with Barako and GlobalPort, assuming it beats Barako by at least six points and all the results of other games go their way.
* Ginebra is currently at 4-6 and it needs to beat NLEX on Wednesday to stay in contention. However, a win won't guarantee Ginebra a playoff place, its chances depending on other results. Their only hope, in fact, hinge on a four-way or five-way tie at 5-6 as stated in the chart below.
ADVERTISEMENT - CONTINUE READING BELOW ↓
* At 5-4, Meralco has two chances to make the playoffs. The Bolts can clinch a quarterfinal place with one victory in its last two games against Rain or Shine on Sunday and against KIA on Wednesday.
* Talk 'N Text finished the eliminations at 5-6 and its fate is no longer in its hands. The Texters, in fact, need a win by sister team Meralco in one of its two games to make it since any ties involving Meralco will knock TNT out of the playoffs by virtue of the Texters' 85-119 loss to the Bolts last June 2.
* KIA must beat Meralco on Wednesday and hope that Barako beats Star, Rain or Shine beats Meralco and NLEX beats Ginebra.
* NLEX, at 3-7, must hope that Blackwater beats Star on Tuesday to even have a chance.
Here now are the different scenarios: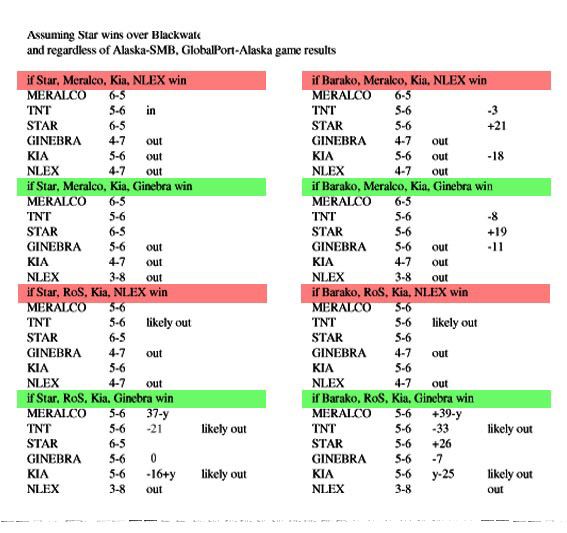 ADVERTISEMENT - CONTINUE READING BELOW ↓
PBA Updates