THE PBA board on Saturday announced that there will be no do-over of the controversial draft lottery as sought by Rain or Shine after an emergency meeting allowed the league members to settle the issue internally and amicably.
Pato Gregorio, league vice chairman, said the board held an emergency meeting just hours before the Leo Awards on Saturday to discuss Rain or Shine's motion for a re-draw of what it had blasted as a draft lottery that "lacked transparency and class."
GlobalPort won the draft lottery on Tuesday over Meralco, whose draft right was owned by Rain or Shine. But the proceedings were marred by suspicion that the draft was 'rigged.'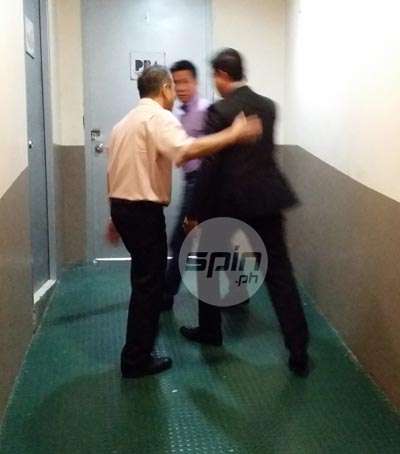 In the end, Gregorio said the board settled the matter internally after Rain or Shine and the entire board accepted the public apology of Commissioner Chito Salud, who admitted on Friday that the lottery was done in an "unrefined manner" but insisted it was an "honest draw."
"We listened to the issues raised by Rain or Shine (board governor) through Atty. Mert Mondragon and we also talked about the formal apology of commissioner Chito Salud," said Gregorio, who presided over the emergency meeting in the absence of league chairman Ramon Segismundo. Segismundo is currently in Singapore.
"We have decided to do the following: The PBA board and PBA management committee will immediately review the procedure of the lottery draw and the draft in August so we can avoid (a repeat of) this issue," explained Gregorio, who also serves as Talk 'N Text's board governor.
"The Rain or Shine team represented by their governor Mert Mondragon has accepted the apology of Commissioner Salud and the PBA board accepts that apology as well. Now, we will be supporting the good commissioner in his efforts to really improve the PBA as we celebrate our 40th anniversary (this October)."
Gregorio added that as the pro league enters its 40th season, it is imperative for the PBA to keep "improving."
"It was a freewheeling discussion, but we confronted the issue right away. We were one in saying that we really need to improve this (lottery draft) procedure," he said.
"Wala pong pinag-debatehan sa isyu na 'yun, alam po namin na dapat mas maganda na ang proseso sa susunod because the PBA is 40 years old and we have to keep improving," he added.
[Also see Wilfred Uytengsu slams 'farce draft]