THE PBA board announced on Monday it has rehired the head of its marketing department who resigned weeks ago amid allegations that she submitted spurious credentials when she applied for the position.
In a statement posted on its official social media accounts, the pro league said the board approved in a special meeting the hiring of Rhose Montreal as marketing director, citing "humanitarian reasons and exemplary performance."
The move came just weeks after the league itself released a statement saying the board had discussed posts on social media questioning Montreal's alleged entry in her application claiming graduated cum laude from the University of the Philippines.
UP, through Registrar Marilyn R, Canta, Ph. D., has since denied the claim.
"Based on our records, Ms. Garcia (Montreal's maiden surname) was enrolled during the First Semester 1992-1993 until the Second Semester 1995-1996 at the College of Social Sciences and Philosophy, working towards the degree of Bachelor of Arts in Philosophy. She did not graduate," the UP statement said.
After deliberations, the board, in a statement, said it had asked Montreal to air her side. Instead, the PBA said "Montreal appeared before the board and explained her side, after which she tendered her resignation."
Continue reading below ↓
Recommended Videos
"After further deliberation, the PBA board accepted Montreal's resignation effecting immediately," the PBA statement said.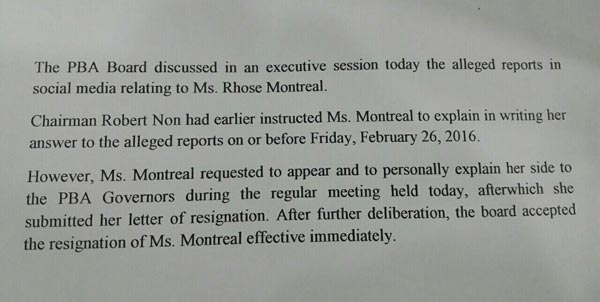 But in a sudden turn of events, the PBA has released an official memo on Monday saying Montreal, in a letter addressed to the board of governors, through the Office of the Commissioner, re-applied for the position as marketing director of the league.
"In a special meeting, the board in lengthy deliberations approved the hiring of Ms. Montreal primarily, among others, for humanitarian reasons and because of her exemplary performance," said the PBA in the statement.
Here is the official statement: