"BAGONG adjustment na naman, pero professional tayo."
RR Garcia's words could be the mantra of this group of basketball journeymen in the PBA, where the frequency of lineup changes among the league's 12 teams is a constant fact of life.
A fortunate few enjoy their careers with one team, but there are those who, for one reason or another, end up moving from one team to another through trades, oftentimes through no fault of their own.
SPIN.ph scoured the list of active players who have packed their bags more often than the norm, the favorite names in the PBA's seemingly never-ending wheeling and dealing.
RR Garcia (4 teams, 4 seasons)
The rookie year of the sixth overall pick of the 2013 PBA draft is a good indicator of what the former FEU Tamaraw's pro career would turn out to be. Garcia was sent by guard-heavy GlobalPort to Barako Bull for forward Keith Jensen in just his first season in the league. At Barako (which would later become the Phoenix Fuel Masters), Garcia would spend two seasons and show marked improvement.
But despite having a career year in the 2015-16 season, the 5-11 combo guard was shipped to the Star Hotshots in a five-player deal that involved Rodney Brondial for Jonathan Uyloan and rookies Mark Cruz and Norbert Torres. After one conference, the 26-year old Garcia then became one of the centerpieces of a three-team trade involving the San Miguel Beermen and Mahindra. Garcia and sophomore Keith Agovida will join the Beermen, who gave up Ryan Arana and their 2018 first round pick to the Floodbusters.
Continue reading below ↓
Recommended Videos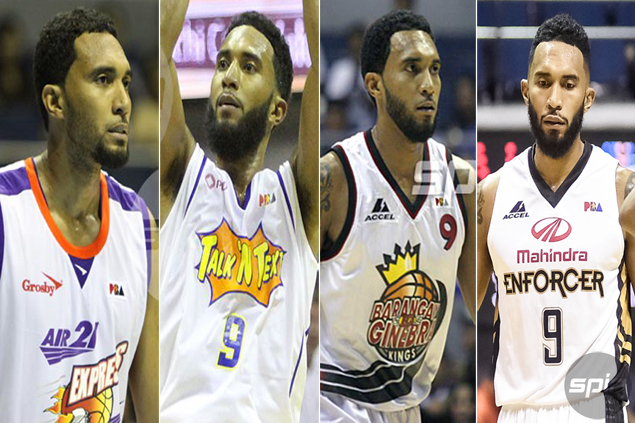 Nino 'KG' Canaleta (8 teams, 12 seasons)
Gifted with great athleticism, Canaleta has become one of the league's nomads ever since he came to the PBA in 2005.
The 6-6 forward from the University of the East would spend the majority of his career with the team that made him the 6th pick in the 2005 draft, Air21 Express (the franchise was later sold and is now the Phoenix Fuel Masters where he would enjoy his most productive seasons in three different occasions.) In 2013, Canaleta took the Most Improved Player award in his last tour of duty with the Express.
In 2009, the Express was involved in a three-team trade with Purefoods and Ginebra. Canaleta and Don Allado went to the Giants while JC Intal and Doug Kramer ended up with Ginebra. In return, the Express received Beau Belga, Chad Alonzo and three draft picks. The high-flying Canaleta won his lone PBA championship so far with the Purefoods franchise in the 2009-10 Philippine Cup.
He would later play for Ginebra, Talk N' Text, NLEX and Mahindra. After the Floodbusters chose not renew his contract, the 34-year old veteran signed as a free agent with GlobalPort.
Joseph Yeo (8 teams, 10 seasons)
This 6-1 shooting guard has carved a reputation as big-time scorer in 10 seasons in the league, but for some reason he couldn't stick with one team. Picked by Coca Cola as the third selection in the 2006 PBA draft, the La Salle standout has also lived a nomadic existence in the pro ranks.
Yeo was traded to Sta. Lucia in his sophomore year and helped the team win the Philippine Cup as a high-scoring sixth man in 2009. After three seasons with the Realtors, Yeo was shipped to the San Miguel franchise for Bonbon Custodio, but injuries reduced his role in his four seasons there. A straight-up swap for Air21's Mark Isip led to a reunion with college coach Franz Pumaren and La Salle teammate Mac Cardona. The reinvigorated Yeo saw his stats rise but the second wind was short-lived and he was traded to Barangay Ginebra for a 2015 1st round pick.
After one season with Ginebra, Yeo was traded to Barako Bull for Sol Mercado. Two months later, Barako sent Yeo to GlobalPort for a 2016 1st round pick. And before the new season opened, the Batang Pier dealt Yeo to the Meralco Bolts in exchange for Rey Guevarra.
Doug Kramer (7 teams, 9 seasons)
It seems that the 6-5 big man has as many endorsements as the number of teams he's played for in the PBA. Selected fifth overall by Air21 in 2007, Kramer was shipped to Ginebra along with JC Intal in a three-team trade in 2009.
Kramer would later see another stint with Air21 before suiting up for Rain or Shine, Powerade and Barako Bull in the next four seasons.
In 2013, Barako Bull traded Kramer to Petron for Dorian Pena and a future second round pick. The big man would last three seasons with the San Miguel franchise before the Beermen sent him and Rico Maierhofer to GlobalPort for Yancy de Ocampo and Gabby Espinas.
Rico Maierhofer (6 teams, 7 seasons)
The 2010 PBA Rookie of the Year was poised for a breakout year in his second season when he tore his ACL, prompting B-Meg to send the Filipino-Austrian to Ginebra via a three-team trade. In return, B-Meg received Yancy de Ocampo and a 2nd round pick.
Due to a glut of big men, Maierhofer struggled with the limited minutes in the Gin Kings camp. In 2013, he and Willy Wilson were acquired in a draft day trade for Barako Bulls' 4th pick, which Ginebra used to select James Forrester.
Maierhofer's improved showing with Barako would lead the 6-6 forward to be acquired by San Miguel in a complex four-player deal that also involved Jason Deutchman and the Beermen's two second round picks. Maierhofer returned to Barako in 2015 for Billy Mamaril as part of a four-team, six-player trade but five months later was acquired by GlobalPort in exchange for Jervy Cruz.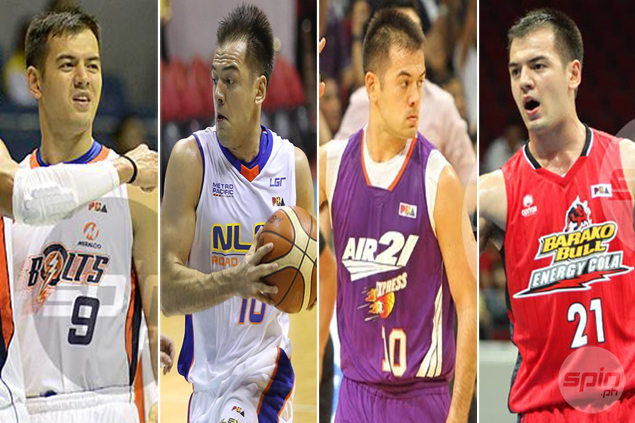 Sean Anthony (6 teams, 6 seasons)
The Filipino-Canadian was the sixth pick in the 2010 draft by Air21 but was immediately shipped to the Powerade Tigers. Anthony played two seasons with the Tigers before another draft night trade in 2012 sent him to Barako Bull for No. 5 pick Aldrech Ramos.
After one season with Barako, Anthony was traded to Talk 'N Text in exchange for Jared Dillinger. Before the end of the 2013–14 PBA Philippine Cup elimination round, Barako pulled off another deal that sent Anthony , Eliud Poligrates and a 2016 first-round pick to Air21 for KG Canaleta.
Anthony saw himself on the move again when he was sent to the Meralco Bolts in a three-way trade involving the NLEX Road Warriors (formerly Air21) and the Blackwater Elite in September 2014. NLEX obtained Blackwater's 2016 and 2017 2nd round picks along with the draft rights to Juneric Baloria. The Elite received Sunday Salvacion and Jason Ballesteros.
Exactly a year later, Meralco sent Anthony to Mahindra in exchange of their 2016 and 2017 2nd round picks but was again traded to NLEX for Juneric Baloria and a 2016 2nd round pick. The trades notwithstanding, he enjoyed a fine season with NLEX that led to a spot in the Mythical Second Team just last season.
Gabby Espinas (6 teams, 10 seasons)
The 6-4 Espinas was selected fifth overall by the San Miguel Beermen in the 2006 PBA Draft. As the team acquired more big men, Espinas was relegated to a reserve role. In 2008 he was traded to Air21 for its first round pick in that year's draft.
In 2009, the Express would trade Espinas to Red Bull Barako (later Burger King Whoppers) for a first round pick in that year's Draft, which would turn out to be No.1 selection Japeth Aguilar. He would later be traded to Sta. Lucia for the Realtors' 2009 first round pick. The power forward would play three seasons with the franchise that was eventually sold to Meralco.
In 2012, Espinas was traded to the Alaska Aces in exchange for Jay-R Reyes. After three seasons with the Aces, Espinas was acquired by GlobalPort in exchange for Nonoy Baclao and a 2017 first round draft pick.
Things went full circle in 2015 when Espinas returned to San Miguel via a four-team, six-player trade.
Sol Mercado (8 teams, 8 seasons)
'The Sol Train' was selected by Alaska as the fifth pick in the 2008 draft, but Mercado never suited up for the Aces since he and Eddie Laure were traded to the Rain or Shine Elasto Painters for forward Joe DeVance and Alaska's 2009 and 2010 second round picks.
After an impressive three seasons with Rain or Shine, Mercado was part of a three-team trade involving Meralco, Rain or Shine and Air21. Mercado ended up with the Bolts.
In 2013, Mercado, Kelly Nabong, Jaypee Belencion and Yousif Aljamal were traded to GlobalPort for Rey Guevarra, Vic Manuel, Josh Vanlandingham and a 2015 first round pick.
The following year, Mercado was acquired by San Miguel in a direct swap for fellow guard Alex Cabagnot.
Before the 2014–15 PBA Philippine Cup playoffs, Mercado returned to GlobalPort as the Beermen acquired Cabagnot anew. Barely a month later, Mercado was sent to Barako Bull for Denok Miranda and a 2016 second round pick. And for his third trade within a year, Mercado was shipped to Barangay Ginebra for Joseph Yeo.
Chico Lanete (7 teams, 9 seasons)
The 6-0 point guard from Leyte went undrafted in the 2007 PBA draft but was later signed by Purefoods where he posted decent numbers as a reserve. In his second season, he signed with Ginebra. But after his stint with Ginebra, Lanete cemented his journeyman status by sealing a contract with the Burger King Whoppers.
In 2010, Lanete and Gary David were traded to the Coca-Cola Tigers for Alex Cabagnot and Wesley Gonzales. A year later, Lanete signed with Meralco, which would later trade him to Barako Bull Energy for Paul Artadi. Barako would then send Lanete to the Petron Blaze Boosters in a deal for Marc Agustin.
During the 2014 PBA draft, Lanete returned to Barako Bull (now the Phoenix Fuel Masters) along with Jojo Duncil and the team's third overall pick in exchange for San Miguel's 2014 second round pick and its 2016 first round pick.
Rob Reyes (7 teams, 8 seasons)
The fourth overall pick by Talk 'N Text in the 2008 PBA Draft saw himself wearing a different uniform every season in his first five years. Playing limited minutes with the Tropang Texters in his rookie year, Reyes thrived when he went to Barako Bull, enjoying his best season as a pro with the Energy Boosters.
But the 6-foot-5 bruiser was involved in a three-team, five-player deal between Barako Bull, Meralco, and Powerade where he landed with the Tigers for one season before ending up with Petron the next year. In 2012, Reyes was again on the move, landing at Air21 in a three-team deal involving Petron and Ginebra.
Reyes returned to TNT the next season in a three-team, eight-player deal with Air21 and Meralco. In his second stint with the Tropang Texters, he won two championships in two seasons before TNT included him in another multi-player trade with Mahindra and NLEX, where he played last year. In the upcoming season, Reyes will suit up for Mahindra after NLEX included him in a revised deal for promising big man Bradwyn Guinto.
Yousef Taha (5 teams, 4 years, 6 trades)
The 6-foot-7 Taha was set for a journeyman role right in his rookie season. Taken by Air21 as the 11th overall pick in the 2011 PBA Draft, Taha was traded in the middle of his first conference to Ginebra in a deal involving Mike Cortez. And right before his third conference, he was shipped to GlobalPort. The next year was no different as Taha found himself with Petron in a 2013 Draft trade, as the Batang Pier landed Terrence Romeo using the first round pick they got from the Blaze Boosters.
Midway through the 2014 Commissioner's Cup, Taha returned to GlobalPort as San Miguel (formerly Petron) acquired Justin Chua. Two months later, he got shipped to San Mig Coffee along with Ronnie Matias in exchange for Yancy De Ocampo and Val Acuna. Taha spent the next two years with the Purefoods franchise, winning his lone championship in a backup role. But in an eight-player, three-team deal centered on RR Garcia, Taha got back to the Batang Pier side for a third time last May.