'WITHOUT Boss Danding, there is no RB23.'
In an emotional post on his Facebook page, PBA great Ricardo Brown paid tribute to the late Philippine basketball godfather Eduardo 'Danding' Cojuangco, who he said he owed his Hall of Fame basketball career that began with a stint in the Northern Consolidated Corporation (NCC) national team and ended with a PBA grand slam with San Miguel Beer.
Now 63 and a principal in a school in California, Brown spoke highly of the former Filipino ambassador in recalling the events that led him to his return to the homeland of his mother and subsequently, suit up for the Philippine men's team, and later had a brief but meaningful stint in Asia's pioneering pro league.
"I owe him so much because he dramatically changed my life," said Brown just hours after learning about the death of Cojuangco, 85, late Tuesday.
"Mr. Cojuangco did more than provide me a chance to play basketball in the Philippines. The Boss brought me home."
ADVERTISEMENT - CONTINUE READING BELOW ↓
Brown was born in Chicago almost a decade after his American serviceman father Lee Brown and Filipina mother Conrada Vidal moved to the U.S.
A deadshot guard at Pepperdine University, he was taken in by the Houston Rockets in the third round (59th overall) of the 1979 NBA draft. Although he failed to sign with the Rockets, Brown appeared on the radar of Cojuangco as a major prospect for the NCC national squad that he was eyeing to form under the late American coach Ron Jacobs.
And so Brown saw himself setting foot in the country for the first time in 1981.
"You know my heart was with you from Day One when I got off that plane with Nestor Mayoralgo (then Basketball Association of the Philippines secretary general) and Doc (Fernando) Carrascoso and stepped on Philippine soil for the first time," he said.
Brown became part of the original NCC program in 1981 composed mainly of Americans who Jacobs planned to naturalize as Filipinos including Jeff Moore and Dennis Still. Only Frankie Lim and JB Yango of San Beda were the homegrown players included in the unit.
While it won the Jones Cup that same year with an average winning margin of 30 points a game, the team received a backlash from Filipino basketball fans for being composed by a majority of foreign players.
Fearing the team may end up not getting the full support of the Filipinos, the program was eventually scrapped.
That left Brown in limbo.
Finding himself with nothing to play for, Brown enrolled at De La Salle, a school supported by Cojuangco, in 1982 and played for the team in several local tournaments. The Green Archers though, were no longer in the NCAA following their decision to withdraw from the league in the aftermath of its tumultuous 1980 game against Letran that was called off due to the alarming riot between supporters of the two schools.
Brown felt he wasn't getting enough competition.
"I didn't want to leave the Boss. Not a chance. But our team (NCC) was not playing or even practicing for an entire year. We were in limbo because of political issues beyond our control, and I was in the prime of my athletic life," said the 6-foot Fil-Am guard.
"Wearing the green jersey (La Salle) were not enough."
Entering and playing in the PBA was the only way, Brown thought back then.
So he asked for Cojuangco's blessing to turn pro, and to his surprise, the former Tarlac governor was more than willing to let him go.
Brown remembered very well what Cojuangco told him when he visited the Filipino billionaire at his UCPB office in Makati.
ADVERTISEMENT - CONTINUE READING BELOW ↓
"Ricardo, I can't guarantee anything, and I know you want to play again. You have my blessing to leave us and go to the PBA if that's what you want to do," Brown recalled being told by Cojuangco.
"I predict great things to come for you. I wish you the best and if for some reason, things don't work out, you always have a place with me here."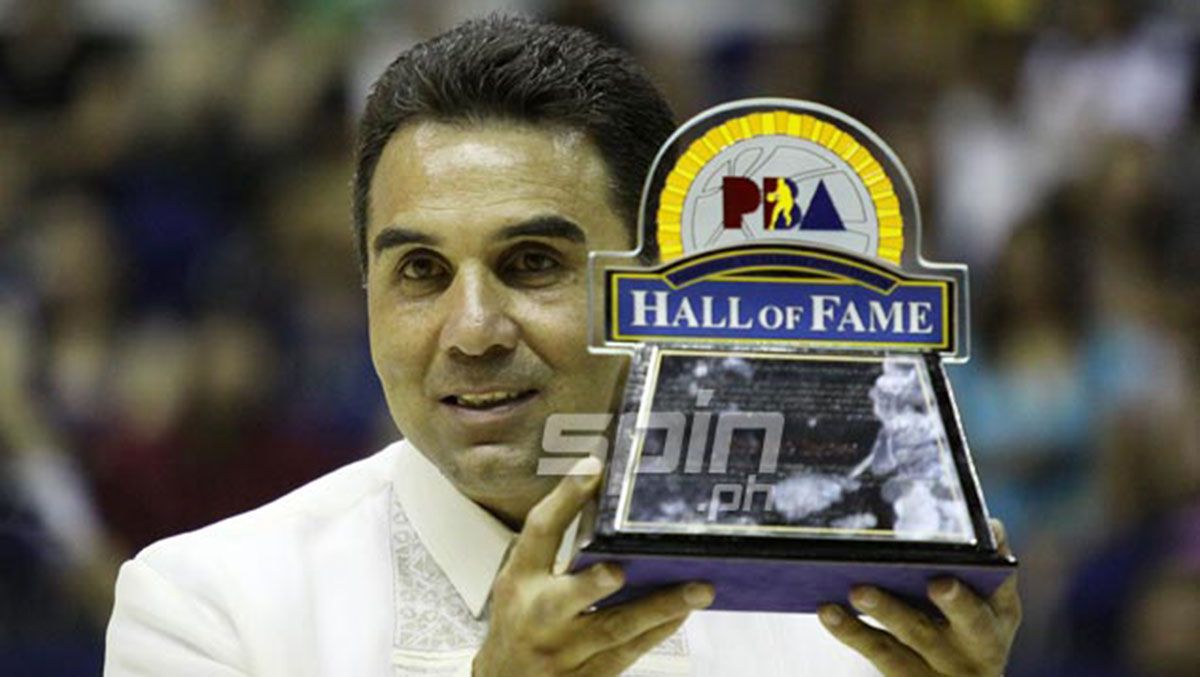 As it turned out, everything worked in Brown's advantage when he became among the first Fil-Americans to play as a local in the PBA in 1983 for Great Taste.
He became Rookie of the Year and two seasons after, was already league MVP known for his quickness, fancy dribbling, and a deadly outside gunner.
Brown, nicknamed 'Quick Brown Fox,' won a total of nine championships, being part of the first champion unit of Great Taste and a key component when San Miguel clinched a grand slam in 1989.
He was also a four-time Mythical Team member, named as one of the 25 PBA Greatest Players, and in 2009, was inducted to the league's Hall of Fame.
In 2012, Brown returned to the country to belatedly receive his Hall of Fame plaque. The visit won't be complete without having an audience with The Boss.
"My loyalty to you was second to none. I told you that privately when we had lunch back in 2012 at your San Miguel office," said Brown. "I spoke softly to you so only you and I could hear as I told you how special you are to me and I'll be indebted to you forever."
Brown said he could only think of three words to describe Cojuangco.
"Respect, Admiration, and Loyalty," he said.
"Those sentiments remained, and my loyalty to the Boss never waned even though I never played for him again."
Brown's FB post by the way, was accompanied by a personal photo of him with Cojuangco in Taipei during the 1981 Jones Cup.