GAME Seven.
As rare as they come, there is something about these games that excite basketball fans, and it will be no different on Wednesday when San Miguel Beer and Alaska clash in the deciding match of what has so far been an epic best-of-seven series for the 2015 PBA Philippine Cup championship.
It is only fitting for PBA fans that the quest to end the two longest all-Filipino title droughts among the 12 active franchises in the pro league has come to this - a Game Seven for all the marbles in the most coveted conference in a season.
This is actually the first Game Seven over the last four conferences, or since San Mig Coffee beat Petron Blaze, 87-77, to claim the 2013 PBA Governors Cup and start a string of four straight titles including a grand slam - only the fifth of its kind in the league's 40-year history.
In the Philippine Cup, a Game Seven is even rarer as this is the first in six years and only the third over the last 17 years.
The only two Game Sevens over the last 17 years saw Talk 'N Text beat Alaska, 93-89, for the 2009 Philippine Cup title where the Tropang Texters battled back from a 2-3 series deficit, and Sta. Lucia's 100-88 romp over Purefoods to win the only championship in the Realtors' history.
Continue reading below ↓
Recommended Videos
In the 25 best-of-seven finals in an all-Filipino conference, this is only the seventh that's going the distance.
This is the 32nd Game Seven overall in PBA history, and the 23rd in a PBA Finals.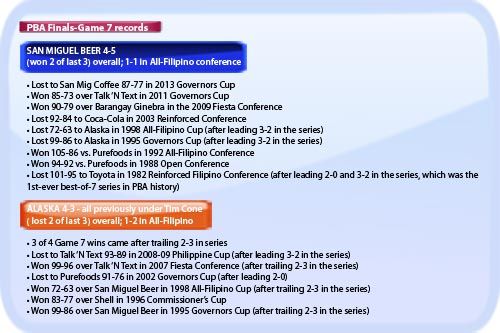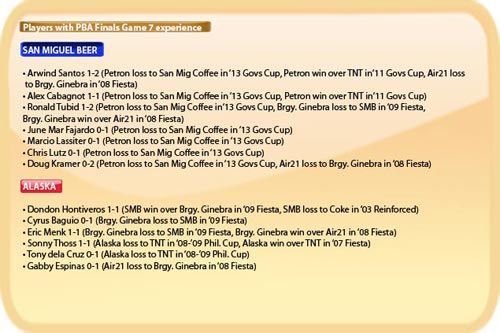 Here's more trivia:
Following Alaska's Game Six win, the Aces are looking to become only the 12th team to win a PBA championship by overcoming a 2-3 series deficit.
The last team to accomplish the feat was San Miguel Beer against Barangay Ginebra in the 2009 Fiesta Conference.
Overall, 11 of 33 teams were able to overcome a 2-3 series deficit to win a best-of-seven PBA Finals.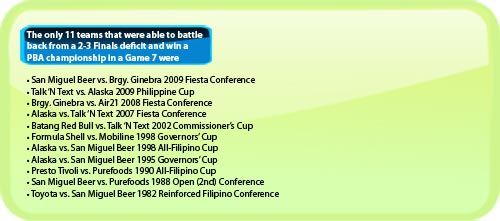 Three of those 11 teams that won championships despite being down 2-3 in a PBA Finals were Alaska teams — the most among all teams — and two of those came at the expense of San Miguel Beer, one of them in the all-Filipino tourney.
San Miguel Beer shares with the Talk 'N Text franchise the distinction of having the most PBA Finals lost despite having 3-2 leads, with three each.
Since it was first implemented in the PBA in the 1982 Reinforced Conference, there had already been 101 best-of-seven series, 71 of them in the Finals and 30 in the semis, inclusive of the two semifinal series in this conference.
Hence this is the 102nd best-of-seven series in PBA history, and the 72nd in the Finals.