THE PBA Commissioner's Office has finally agreed to relax rules in two contentious areas amid an outcry among fans over the way the league games are being called by the referees.
PBA commissioner Chito Narvasa agreed to relax rules concerning landing-spot fouls and 'lifting' violations after a consultative meeting with coaches at the PBA Cafe on Monday night, a source said.
The changes were approved by Narvasa in what was supposed to be a 'small, private gathering' that drew a complete attendance from league coaches led by NLEX's Yeng Guiao.
The meeting was also meant to tackle a proposal by the PBA board to implement Fiba rules in league games this season to help Gilas 5.0 get used to international officiating ahead of its stints overseas.
A final decision has yet to be reached on the matter, a source said.
[See Rigid PBA rules rob games of color, turn players into robots, says Tommy Manotoc]
What was resolved was the contentious 'landing spot' rule that has seen a number of players slapped with flagrant fouls - and consequently fined - under strict parameters set by Narvasa and his technical staff.
Under the agreed amendments, players who jumped to make a 'legitimate challenge' on a shot and accidentally lands on the offensive player's landing spot will only be called for a regular foul.
Continue reading below ↓
Recommended Videos
Narvasa and the coaches also agreed that players will no longer be called for 'lifting' violations unless they put their hands under the ball or paused while dribbling.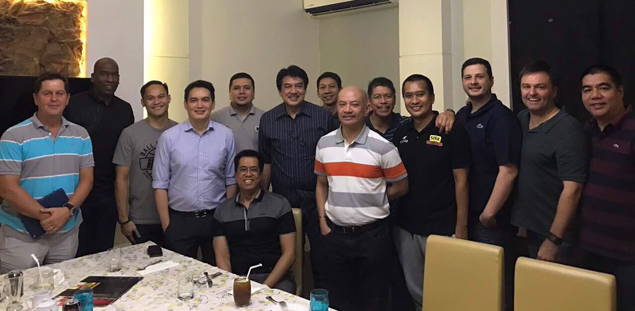 While an agreement has been reached by Narvasa and the coaches in these two areas, it is still up to the Commissioner's Office to decide when to implement the changes.
The new season has seen a number of players, specifically GlobalPort star Terrence Romeo, called for 'lifting' violations under the parameters implemented by Narvasa.
[See Rios fined P7.5K, Belga poorer by P3,400after latest round of PBA fines]
According to sources, Guiao also raised concern over the way referees are calling a lot of touch fouls on defenders, leading to several stoppages that deprive games of any form of continuity.
Most of the coaches agreed that officiating in the league has reached an 'extreme' where slight contact is enough to merit fouls, another source added.
Narvasa has agreed to revisit the rules, the source added.
Also pending is a proposal to allow defenders at the post area to use an armbar on the offensive player. Nowadays such strategy merits an automatic foul.