OVER the last week, we've received a number of complaints from fans who apparently were left frustrated by their inability to get hold of tickets for the PBA Governors Cup Finals between Barangay Ginebra and Meralco.
The anger, however, boiled over after Game Three of the best-of-seven series, where tickets were supposedly sold out yet only a declared 14,285 fans showed up - far below the capacity of the Smart Araneta Coliseum.
No wonder a lot of fans bombarded our comments pages on social media with complaints, some of them making downright accusations of ticket hoarding, supposedly in a bid to keep 'true Ginebra fans' from the finals.
Take this one complaint from a reader: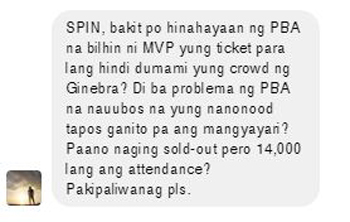 Continue reading below ↓
Recommended Videos
To get to the bottom of this, we asked PBA media bureau chief Willie Marcial who explained why tickets for prime seats for Game Three were already out of the market, yet a lot of these were left empty during the game.
Marcial admitted that under the PBA distribution system, only a portion of the tickets is made available to TicketNet, the Big Dome's ticket distribution arm, after requests for tickets from teams, season pass holders, and conference pass holders are addressed.
Most of these requests are for prime seats, specifically the patron, lower box, and Upper A sections, Marcial added.
The PBA official also pointed out that all 12 member teams are given allocations of the tickets to the Ginebra-Meralco finals games, the number depending on the request.
Although Marcial declined to reveal numbers, one league source admitted that one team in the finals has bought 2,000 tickets for distribution to its employees and supporters.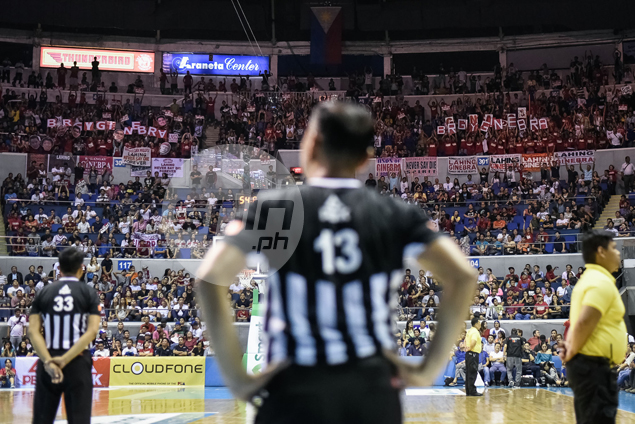 Aside from these special allocations, Marcial said another reason for the decrease in available tickets is a directive from Quezon City officials to the Big Dome discouraging the sale of too many SRO (standing room only) tickets which fill the venue way over capacity - and consequently compromises the safety of the fans during games.
Marcial said city officials issued the directive after one fan who was issued an SRO ticket and seating in the aisle was hurt in one of the games of the semis series between Ginebra and sister team San Miguel Beer.
The fan suffered a cut while seated at the stairs and was taken to a hospital for treatment by Big Dome officials, the PBA official added.
"Kung mapapansin n'yo, may mga games dati na kahit yung mga hagdan (ng Araneta Coliseum), hindi mo na makikita dahil may nakaupo na," said Marcial. "Yun yung mga games na over 20,000 ang attendance.
"But with the new directive, we are discouraged from selling that many tickets," he added.
The PBA attendance record for the Big Dome stands at 24,883 which was set during Game Seven of the Ginebra-San Mig series on February 12, 2014.
Marcial said that record may never be broken, under the new safety directives adhered to by the Big Dome.