THEY both thrive on shooting three-pointers and running the floor; they also have deep lineups and they finished with identical records in the eliminations of the PBA Commissioner's Cup.
So something has got to give when Talk 'N Text and Rain or Shine collide in the finals of the midseason tournament beginning with Game One on Wednesday at the Mall of Asia Arena.
The two teams are so alike their wing positions are likely to cancel each other out: Gabe Norwood – Matt Ganuelas-Rosser—Filipino-American defensive stoppers; and Jeff Chan – Larry Fonacier—Gilas Pilipinas sharpshooters.
So the Tropang Texters and the Elasto Painters try to exploit whatever matchup advantage they have as they seek to add to their trophy cases — the seventh for the former and just the second for the latter.
Here are the key matchups that will dictate the best-of-seven series:
Jayson Castro vs Paul Lee
They are the Top 2 Best Player of the Conference candidates and are the straws that stir their respective squads.
But Castro, who turns 29 in two months, is three years older than Lee and plays more minutes as he assumes the role as the new face of the franchise after the retirement of Jimmy Alapag.
Continue reading below ↓
Recommended Videos
"I think Jayson is more athletic and he's more of a veteran," Painters coach Yeng Guiao said when asked to compare the two in-form point guards.
"But Paul is coming into his own," the outspoken mentor was quick to add. "Paul is beginning to blossom in his PBA career. Also having a take-charge attitude, he's been living up to that responsibility and even if he's one of the younger guys in the team, he's taken on a leadership role."
"I think between Jayson and Paul, Jayson is a little bit more mature and more experienced, but Paul is not far behind," Guiao concluded. "Nandun na rin siya sa level ni Jayson."
For Texters coach Jong Uichico, he feels neither star playmaker has a glaring edge over the other.
"Jayson and Paul should be equal."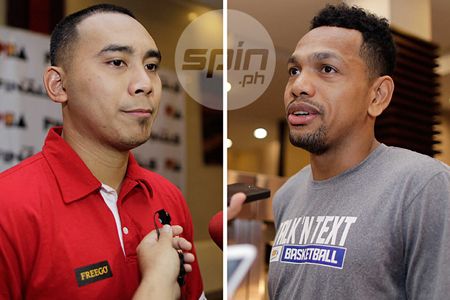 Ranidel de Ocampo vs Beau Belga
It's one of the most versatile forwards in the league against one-half of the Extra Rice Inc.
De Ocampo can hurt you with his accurate outside shooting and array of post moves, but shoulders more of the load for TNT than Belga does as the 33-year-old "stretch 4" normed 14.3 points on 42.9 percent from beyond the arc, 6.8 rebounds, 1.4 assists, and one steal in 32.3 minutes.
The 28-year-old Belga can also hurt you (often literally) from inside and out, but sees less playing time. He has averaged just 18.5 minutes that allowed him to tally just six points on 13.2 percent from three-point distance, 3.7 rebounds, and 2.3 assists per game.
"Beau has range, but the range of Ranidel is more consistent," Guiao said. "But Beau has the edge in terms of imposing his presence in the post.
"Pero hindi naman malayo 'yun, kasi marunong rin naman gumamit ng katawan si Ranidel; maganda rin ang footwork niya," he added. "Ang advantage ni Beau is he's heavier and stronger."
Overall, Uichico gives the advantage to his ward, a former Finals MVP.
"Beau and Ranidel should be equal, but Ranidel for experience."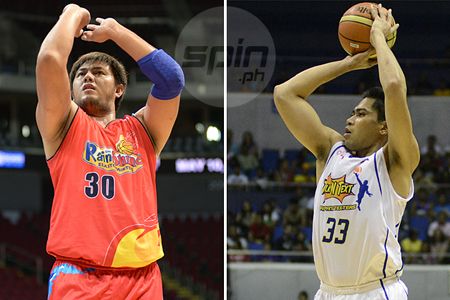 Imports
Everyone knows how big of a factor the reinforcement plays for the squad.
The Texters expect Ivan Johnson (29.7 points on a 34.4-percent clip from three-point territory, 14.4 rebounds, 2.6 steals, two assists, and 0.9 block in 37.9 minutes)to carry the team offensively, as evidenced by a string of games where the temperamental 6-foot-8 forward averaged above 40 points in the eliminations.
With plenty of local support, Wayne Chism can afford to concentrate more on the dirty work. The 6-foot-9 big man proved it in the quarterfinals where he averaged just 15 points per game, along with 14.3 rebounds, 5.3 assists, and 1.3 blocks in 38.3 minutes.
"I think their import is a better scorer, but our import is a better rebounder and defender," Guiao said.
Texters coach Jong Uicho once again believes the matchup negates each other.
"Imports should be equal."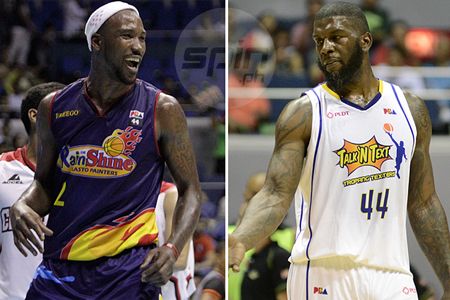 Bench
Here's where ROS appears to have a significant edge as it uses a deep, unpredictable 12-, sometimes even 14-man, rotation unlike the Texters' strict nine-man rotation.
"Because of a running game and a lot of pressure defense that we apply, necessarily you have to (stretch) your rotation and go deeper into your bench," Guiao explained. "If it becomes a long and physical series, yung wear and tear and yung physical demands of the game will have an effect on a shorter rotation, which is what Talk 'N Text is applying."
"So pag dating doon, meron kaming konting advantage," he added, hoping to use his bevy of pesky backcourt players to frustrate the cat-quick Castro.
"Marami kasi maliliit. We can also use that advantage to hound Jayson all-series long. We have a battery of guards who can just follow him all the way to the comfort room, kung kailangan," Guiao added with a smile.
But the fiery mentor is still wary of the Texters' rarely used bench players, including former league MVPs Willie Miller and Kelly Williams, and Danny Seigle and Harvey Carey. Miller even had 10 points, three assists, three boards, and two assists in 19 minutes in the Texters' 89-86 win over the Painters in the eliminations.
"Sila, even if they only use nine players, very easily they can use eleven or twelve; batak din yung mga 'yun. Hindi lang ginagamit," Guiao said. "Pero any time you use them, they will also deliver.
"So yung edge namin 'dun, hindi rin ganun kalaki," he added. "It's just that we're more used to going deeper. But it doesn't mean their bench doesn't have the talent."
This time, Uichico had a lot to say, marveling at how Guiao could afford to extend his rotation.
"Si Yeng, talagang binibigyan niya ng kumpiyansa ang player niya. Ako nga, hindi ko magawa 'yun eh," he said. "Eliminations pa lang, talagang pinapalaro na niya. Kaya 'pag dating ng araw, ready yung player. Hindi nabubulok 'dun sa bench, laging handa 'yung player maglaro."
Coaches
Uichico has eight championships, two more than Guiao, but the latter defeated the former in the first and last time they faced off in the finals in the 2001 Commissioner's Cup where Guiao's Red Bull side beat a powerhouse SMB side, 4-2, behind import Antonio Lang.
Guiao also has the more recent championship experience, having steered the Painters to their first franchise title in the 2012 Governors' Cup with Jamelle Cornley as their reinforcement.
"It's hard to read him and his game plan. Coach Yeng is a great game coach. I have to be alert," said Uichico, who last won a trophy in the 2008 Fiesta Conference with Ginebra with towering Chris Alexander as import.
But Uichico hardly feels pressure as he returns to the final spotlight.
"Wala naman (pressure). Masaya na ako, because It's been a long time, kaya hindi na ako sanay. Kinakabahan na nga ako eh," he did admit. "But we'll try our best."
Guiao has a ton of respect for Uichico. Curiously, the two used to live close to each other in Greenhills.
"Coach Jong is always prepared," Guiao said. "I know they watch a lot of video. I know his coaching staff is really competent and efficient. If you prepare less than they will, they're going to dominate you all-game long."
"What's really important when playing against coach Jong is you better be prepared, because if not, they're just going to break you down in so many ways," he added.
Bottom line
Both coaches believe it's a pretty even series.
"If there's any advantage we have, it's very minimal," Uichico said without elaborating.
"I think we will still (give up) some experience to Talk 'N Text, but it's not insurmountable," said Guiao, who has eight players under 30 years old. "It's just going to make us work harder. Kailangan kayurin mo lang."
Also see:
Lee-Castro face-off for 'Best Player' award the perfect sub-plot to Finals
Guiao says RoS ready to exorcise Talk 'N Text jinx
JayWash eager to make up for lost time in return to finals stint with TnT