THE PBA said it's only the 'competitive nature' of Commissioner Chito Narvasa that compelled him to denounce Barangay Ginebra rookie Jammer Jamito for his comical side-step dunk during last week's PBA Slam Dunk contest.
And Narvasa is willing to give Jamito another chance, the league added.
"Ganun lang talaga si Kume, very competitive lang talaga siya. But he's not totally disbarring Jammer, he'll just give him some fatherly advice," PBA media bureau chief Willie Marcial clarified on Thursday.
The explanation came days after Narvasa expressed his displeasure over Jamito's dunk during the side event of the PBA All-Star Week.
[See Narvasa threatens to bar Jamito from slam-dunk contest for sidestep stunt]
The Ginebra freshman had asked Japeth Aguilar to stand under the rim to set up one of his dunks during the competition eventually won by Meralco's Chris Newsome in Lucena City.
But instead of jumping over his 6-foot-9 teammate, the former St. Claire stalwart sidestepped past Aguilar for a one-handed dunk - a move that drew laughter from the jampacked crowd.
But Narvasa obviously didn't find the stunt funny, so much so that he chided Jamito for 'wasting an opportunity to show that he belongs.'
"Hindi na makakaulit sa akin 'yan," Narvasa added.
Continue reading below ↓
Recommended Videos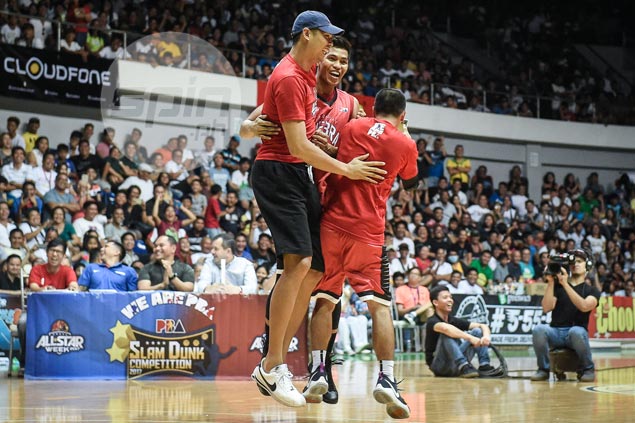 Marcial, though, said Narvasa will still allow Jamito to compete in the future staging of the dunk contest as long as he'll show his real skills.
"Gusto lang ni Kume na sana next time, he'll concentrate more on showing his skills rather than doing antics like the one he did," he stressed.
[See Jamito sidestep dunk makes it to NBA cable talk show 'The Starters']