PBA commissioner Willie Marcial is counting on old hands to chart a new path for the pro league.
The new commissioner has formed a competition committee to be led by multi-titled coaches Tim Cone, Yeng Guiao and Norman Black that will revisit rules and policies, set a new direction for the league, and recommend changes if necessary.
Marcial said the competition committee will, first and foremost, establish what style of basketball the league will embrace - whether the 'no-harm, no-foul' policy of the Rudy Salud era, the ultra-strict officiating of Chito Narvasa's brief tenure, or perhaps somewhere in between.
"Sila na gagawa ng blue book ng liga," said Marcial, who has gained the PBA board's nod for the initiative. "Bale 'yon na ang magiging bible natin for the future."
Cone, Guiao and Black - three of the most successful and longest-tenured coaches in the league's 43 years - will be joined in the competition committee by Alaska coach Alex Compton and Ryan Gregorio, a three-time PBA Coach of the Year and now part of the TV panel covering the games.
Also part of the group are PBA technical supervisor Erik Castro and Joey Guanio, a former Shell player who is now part of the league's technical team.
Continue reading below ↓
Recommended Videos
The committee, Marcial said, is set to convene beginning next month during the Commissioner's Cup to hopefully reach a consensus on a style of play that is acceptable to both players and fans.
The league has, in fact, started the initiative with a poll on Twitter asking fans what they consider as 'Larong Pinoy.'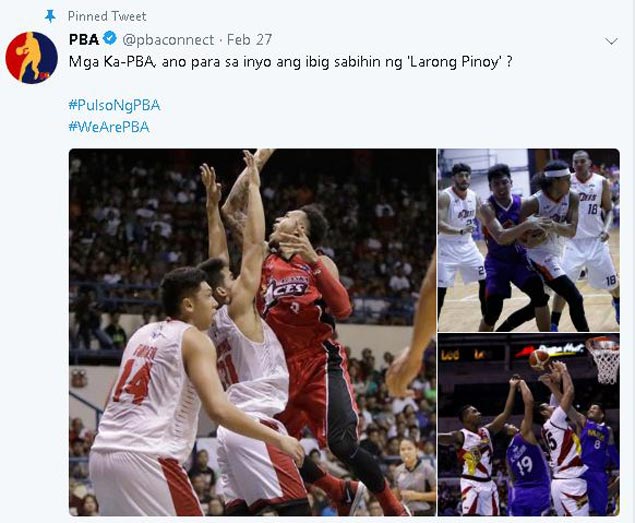 From there, the committee will work with the league and its officials to make adjustments in officiating consistent with the preferred style of play.
Marcial said Cone and Co. will also be tasked to review league rules and guidelines, to see if changes are necessary as the game of basketball continues to evolve.
Rules that have become perennial magnets for controversy will be given particular attention, he added.
"Kasama na sa mga titingnan 'yan. Like 'yung nangyari sa Game Two (of SMB-Magnolia Finals) kay (Rafi) Reavis, yung kung reviewable ba yung stepping violation or not, titingnan lahat yan," Marcial said.