WHAT exactly is a ball hog?
According to various websites, a ball hog is a player who usually takes most of the shots and rarely passes to his teammates; a veritable one-man team; a shoot-first, pass-second type of player; or, in short, a selfish player.
So, who are the ball hogs in the PBA?
The term 'ball hog' has become part of every basketball fan's lingo, loosely translated to 'buwaya' by local fans. It has become quite a contentious issue among fans who casually throw 'ball hog' accusations at players they've come to hate.
While we agree that it is quite a subjective matter, we've nonetheless come up with lists based solely on the statistics from the last PBA season. The results aren't exactly science, but meant solely to determine which player/ players took the most number of shots in the last pro league campaign.
Here goes: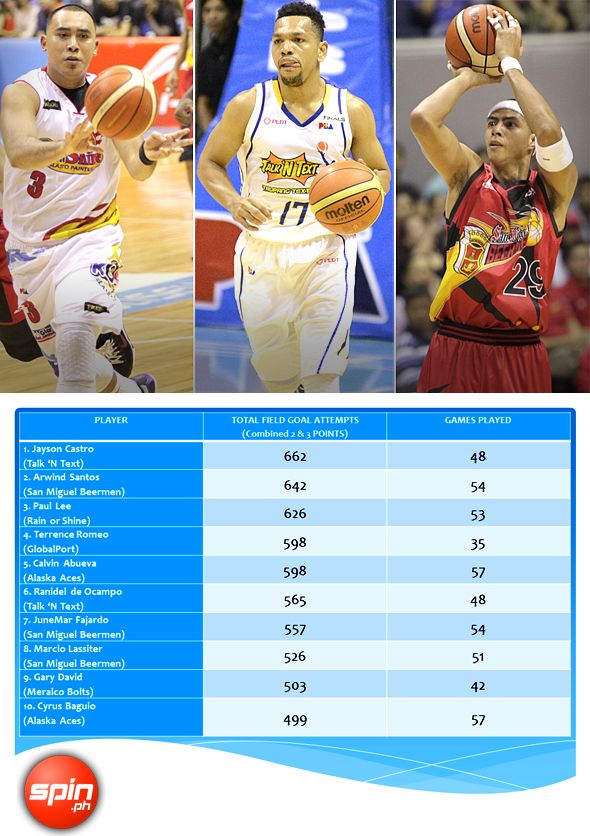 Continue reading below ↓
Recommended Videos
The above list shows the players who took the most number of shots last season. As you can see, Talk 'N Text's Jayson Castro topped the list with 662 attempts (two-point field goals and three-point shots combined), followed closely by San Miguel Beer's Arwind Santos (642) and Rain or Shine's Paul Lee (626).
However, we agree that total field goals alone can't be a fair gauge since some players played more games than the others - and therefore spent more time on the floor. The deeper a team goes in the playoffs in each tournament, the more shots a player is likely to take. As example, we can cite GlobalPort's Terrence Romeo and Alaska's Calvin Abueva. They tied for fourth on the list with 598 attempts each, although Romeo took those shots in 22 less games than Abueva.
So what we did is come up with another list, this time taking into consideration the number of games each player played and the percentage of shot he took vis a vis the rest of his team. Here are the players who topped the second list.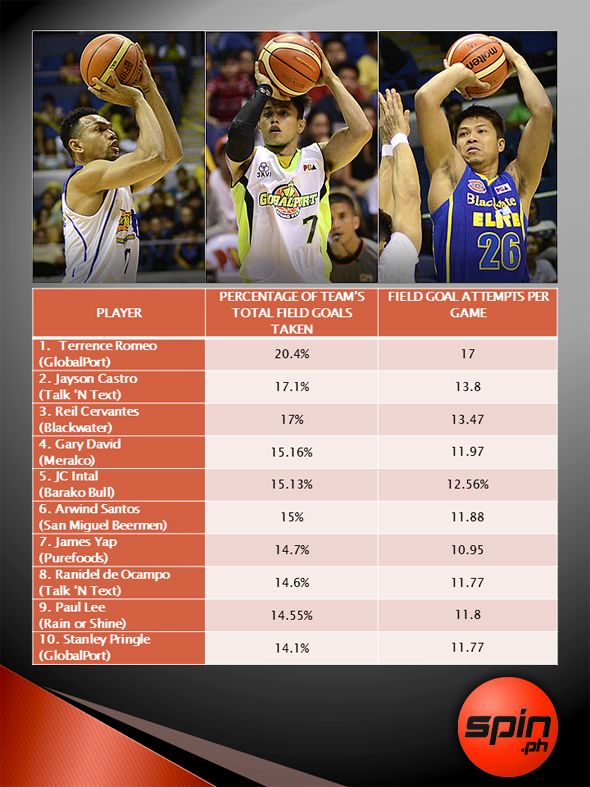 Looking at the list, we see that Romeo took the most number of shots on a per game basis with 17 and, aside from that, took the biggest bulk of the shots for his team at 20 percent. But it is also important to note that the Gilas Pilipinas star also led the league in scoring with a 19.66-point average. His backcourt mate at GlobalPort, Stanley Pringle, also made the list at No. 10 after taking 14 percent of the Batang Pier's total attempts. It is therefore no surprise that the Batang Pier's 83.67 field goal attempts per game led all 12 PBA teams.
Here are other important footnotes:
* Two-time MVP James Yap was no longer the top option on offense during the Tim Cone era at Star, but he still took the bulk of the Hotshots attempts last season with close to 11 shots per game, putting him seventh on the list.
* Ginebra veteran Mark Caguioa has constantly been bashed as a 'ball hog' by rival fans, but the former MVP didn't even make the Top 10 in the two categories. In fact, Caguioa didn't even top Ginebra in that department. Greg Slaughter led the Kings with 10.56 shots per game - or 13.5 percent of Ginebra's attempts overall. Caguioa only ranked second with 9.85 attempts per game - 12.6 percent of Ginebra' total.
* Back-to-back MVP June Mar Fajardo may now be 'the man' at San Miguel Beer, but he still lagged behind teammate Arwind Santos in the attempts department. Santos ranked sixth on the list with 11.88 attempts per game - with 6.6 taken from beyond the three-point arc. Fajardo was tied for second with Marcio Lassiter in the team with 10.31 attempts per game.
* Terrence Romeo may have topped both lists with 17 attempts per game, or 20 percent of GlobalPort's total, but he is actually shooting less than when he was with Far Eastern University in the UAAP. In his final year with the Tamaraws, Romeo threw up almost 21 shots per game. And after his experience with Gilas Pilipinas, expect the flashy point guard to be a lot more discerning with his shot selection.
One website described a ball hog as a player who shoots more than he passes, so abiding by that we come up with a third list: one that takes assists into consideration. In terms of attempts per assist ratio, here are the Top Six.
6. James Yap – 9.85 (attempts per assist)
5. Gary David – 10.38
4. Arwind Santos – 10.49
3. JC Intal – 10.66
2. Reil Cervantes – 11.01
1. Terrence Romeo – 14.09