THE PBA admitted the referees may have made a mistake in awarding Chris Ross a free throw but stood by its decision to hit the San Miguel guard a technical foul late in a tumultuous game against Barangay Ginebra on Sunday night.
Ross was called for a technical foul for going to the line and taking the first of two foul shots intended for SMB teammate Chico Lanete in the final 4.5 seconds of the intense Philippine Cup match which the Kings led at that point, 98-95.
After Ross missed the shot and the error was discovered, the referees slapped a technical foul on the SMB guard which LA Tenorio converted to seal the Kings' 100-96 come-from-behind win.
Eric Castro, put in the hot seat just weeks after being named PBA technical director by Commissioner Willie Marcial, said the referees were at fault for wrongly awarding Ross the free throw but claimed deceit was clear on the part of Ross.
ADVERTISEMENT - CONTINUE READING BELOW ↓
"To be honest, meron siguro kaming fault dun sa mga referees namin, I won't deny it," said Castro in a hastily called post-game press conference at the Big Dome media center. "Pero again, the players know sino ang shooter talaga."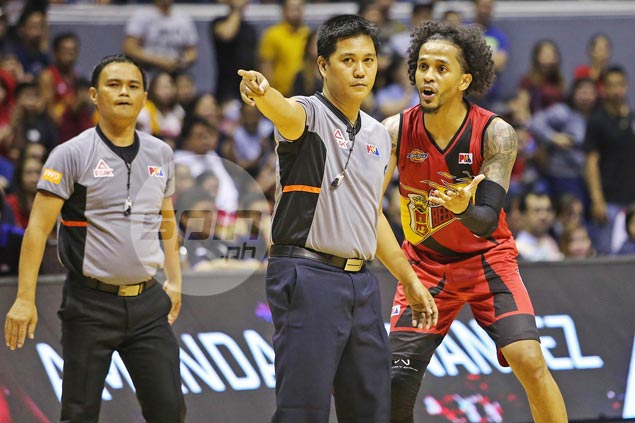 Since it was established that Ross deliberately took the free throw on behalf of the real 'designated free-throw shooter,' Castro said the league rules were clear with regards to the penalty.
Castro said a change in the PBA rule states that a 'player who deliberately takes a place of the designated free throw shooter shall be given a delay of game warning if the free throw has not been attempted, and any succeeding similar offense shall result in a non-sportsmanlike technical foul."
"If the free throw has been attempted by the role shooter the player shall be assessed with an unsportsmanlike technical foul."
Ross said he was in a lose-lose situation.
"I know Chico was (supposed to shoot). I was watching the whole play. Chico was there, he got fouled, and I thought Chico was going to the line," he said. "And they walked up to me and gave me the ball So I shot the free throw.
"What else am I supposed to do? Give the ball to Chico?"
Ross was likewise puzzled on why the referees allowed him to stay in the game since the technical foul was his second for the game for an automatic ejection.
ADVERTISEMENT - CONTINUE READING BELOW ↓
"It was bizarre, to say the least," said the San Miguel guard.
Asked if sanctions are forthcoming if the referee involved would be found guilty of an infraction, Castro said the league will review the sequence again.
"We will discuss it," was his curt reply.
Get more of the latest sports news & updates on SPIN.ph