GLOBALPORT has shored up its roster in the long PBA Governors' Cup break with the addition of Paolo Hubalde and Robby Celiz.
The two returning PBA players have been practicing with the Batang Pier for almost a week now.
"More than likely we might sign those two guys, and we're looking for another big guy," GlobalPort coach Franz Pumaren said after practice on Thursday. "I think the long break will benefit us because we've got some new guys coming in."
Hubalde and Celiz, who teamed up at Alab Pilipinas earlier this year, bared they are signing contracts that will lock them up for the remainder of the Governors' Cup.
"Yeah (short-term deals)," Pumaren said. "We're giving them opportunity to showcase. I think it's a win-win situation for everybody; if they play well, they'll get an extended contract, and at least we're not tied up for a long-term commitment."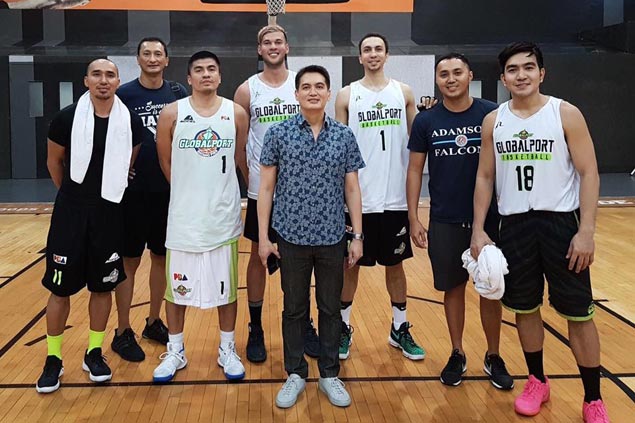 Hubalde has 11 years of PBA playmaking experience under his belt and last played for Mahindra, while Celiz, a former Blackwater forward, last played in the D-League for Batangas and Zarks' Burger.
The duo took faster to land contracts than the still-on-trial Mac Cardona, who has been sidelined with a strained calf muscle in his first few days trying out for the Batang Pier.
"Unfortunately, he got hurt, so back to square one siya," Pumaren said. "I think he can only start practicing after three weeks."
[See Cardona eyes PBA comeback, tries out for GlobalPort spot]
"That only shows you that being out of basketball for the longest time … kasi sometimes, professional players, they think that just by playing five-on-five or whatever, you're already in decent shape eh, but when you start training, that's entirely different," he added. "So probably that's what happened."
Still, Pumaren left the door open for Cardona, who was still present in practice, lifting weights with his upper body while the team was playing a scrimmage on the other side of Gold's Gym Sheridan.
"We're helping out sa rehab," Pumaren said. "Probably after rehab when he'll start practicing, we will assess."
POV,Zoom In
PBA Updates