JUST one look at the protagonists in the PBA Philippine Cup Finals will show why Cebu ang Pampanga are now considered the basketball hotbed in the country.
Most of the central figures on both sides came from the two provinces that take pride in producing a long line of top basketball players over the years. There's reigning MVP and Best Player of the Conference June Mar Fajardo of San Miguel as well as Alaska veteran Dondon Hontiveros, both true-blue Cebuanos.
For Pampanga, there's Alaska workhorse Calvin Abueva and his arch-rival, SMB star Arwind Santos. There, too, is rookie Ronald Pascual, a stablemate of the both Abueva and Santos who has dished off quality minutes for coach Leo Austria at San Miguel.
Aside from Hontiveros and Fajardo, other active PBA players who trace their roots to Cebu are Peter June Simon, Gregory Slaughter Aldrech Ramos, John Ferriols and Eliud Poligrates - each one looking to uphold the proud basketball tradition of a province that has produced the likes of Mon Fernandez (who originally hails from Maasin, Leyte but cut his basketball teeth in Cebu), Lauro Mumar, Dondon Ampalayo, Yoyong Martirez, Manny Paner, Al Solis and Boy Cabahug.
These are just some of the players that have earned Cebu the reputation as the country's top cage hotbed.
Continue reading below ↓
Recommended Videos
Pampanga, however, has gained ground over the years, having produced the likes of former PBA MVP Ato Agustin, the late national player Rey Cuenco and Ed Ocampo. Other active players who came from the province are Ian Sangalang, Jayson Castro, Japeth Aguilar and Justin Melton.
Pampanga vice governor Dennis Pineda has nurtured the careers of some of those players - Abueva, Santos, Sangalang and Pascual, among them - and doesn't hide his ambition to make the province the basketball capital of the country.
"Gusto talaga natin na maging isa sa pinakamahusay na probinsya sa basketball," the son of Pampanga governor Lilia Pineda said. "Hoping ako 'dun, kasi 'yung programa ko po sa mga bata natin sa Pampanga, tuloy-tuloy, non-stop. Kaya nakikita niyo na nag-i-start nang mamunga.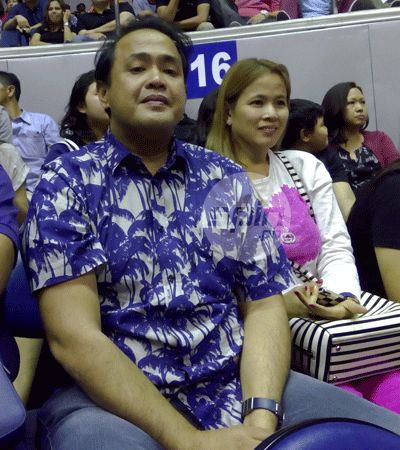 "Hindi ko naman sinasabi na mas magaling na kami sa Cebu, kasi marami talagang mahuhusay na players ang galing dun. Kailangan lang naming i-push pa ang programa namin. Pero sana nga, matapatan namin sila balang araw, better kung malalampasan namin sila."
Pineda currently has some 30 teenage players in his stable, mostly standing 6-foot-5 who undergo the same training regimen that helped make Abueva, Santos, and Sangalang the players that they are today.
The soft-spoken politician said some of these teenagers are expected to make a mark in this summer's Palarong Pambansa, where he will debut his Team Delta squad in bid to snatch the seniors basketball title away from reigning champion Calabarzon.
"Abangan niyo po kami sa Palarong Pambansa, ilalaban ko ang mga bata natin. Sana maging successful, dahil ngayon na namin sinisimulang ilabas ang potensyal ng mga bata natin," he said.
Among the promising players in Pineda's stable is Jay Pangalanan, a 6-foot-7, 15 year old teenager who many believe to be in the mold of Fajardo.
"Dadalin ko siya (Pangalangan) rito sa (PBA Finals sa) Friday. Kasi gusto nung bata na makapanood ng live, saka gusto niyang makita si June Mar," he said.
[See Giant find from Pampanga: Jay Pangalanan, 15 and already 6-7, groomed for basketball stardom]
Fajardo said he is excited to meet Pangalangan, who he read about in a story run by Spin.ph a couple of weeks ago.
"Malaki yung bata na 'yun ha. Kasi 15 years old pa lang, 6-7 na. Ako nung ganun edad ko, 6-3 lang ako. Sana ma-develop nang husto skills niya. Nadinig ko nga mahusay raw. Sana mag-improve pa," said fajardo.
"Pwede naman siya maging tulad ko o lumagpas pa, basta mag-practice siya mabuti, walang imposible. Basta practice lang siya," added the reigning PBA MVP.
Fernandez said the rise of these Pampanga players is good for Philippine basketball.
"This is all good for us. Kasi makikita mo na hindi lang Cebu, hindi lang Pampanga ang nag-e-exert ng effort para mag-develop ng players," said the four-time PBA MVP.
Here's a video of full interview with Pineda and Fajardo:
Still, Fernandez said he believes in will be hard for Pampanga or any province to unseat Cebu as the basketblal capital of the country due to the province's wide talent base and its unmatched passion for the sport.
"Maganda ang programa sa Pampanga. Anybody can be a threat naman sa Cebu for that matter, depende sa sports leaders ng isang province. Like the one Pampanga is doing," he said.
"Pero mahihirapan sila sa Cebu, ito kasi ang melting pot of Visayas and Mindanao. Most of the top young players in the provinces come here to play, kaya maraming material," the longtime national player said.
"If they continue to do that, the provinces will be able to produce a lot of players, pero any town naman can up and challenge them," he said. "We will see, only time can really tell if they will be successful in producing quality players."
[See 'Idol' Calvin Abueva willing to take Pampanga prodigy under his wings]