THIRTY years after, Federico 'Padim' Israel, one of the top defensive players in the rich history of the PBA, remains very much a part of the Purefoods franchise.
One of the original members of the team which made its league debut in 1988, Israel has reconnected with the organization as one of its top speakers in every team building sessions.
Now 61, Israel became a pastor upon retiring from basketbal in 1992. And his job as a preacher has given him the opportunity to link up once more with ballclub he played for from 1988 to 1989 with the likes of Alvin Patrimonio, Jerry Codinera, and Jojo Lastimosa.
"The team invited me for the past two years during its team-building sessions. They're giving me the opportunity to speak to them. And what I spoke about the last time, mukhang na-apply nila," said Israel when SPIN.ph caught up with him after personally watching the Hotshots play the first two games of the Philippine Cup finals against defending champion San Miguel Beer.
"So they just invited me to witness it."
Israel won back-to-back NCAA men's basketball titles in 1975 and 76 under revered legendary coach Virgilio 'Baby' Dalupan at Ateneo. He graduated with an AB Economics degree in 1978 and played with the Philippine team that competed in the FIBA World Championship which the country hosted that same year.
Continue reading below ↓
Recommended Videos
After his stint with Crispa and APCOR in the defunct MICAA (Manila Industrial and Commercial Athletic Association), Israel turned pro in 1981 and was reunited with Dalupan at Crispa, where he would later become part of the 1983 grand slam team as one of the top defenders of coach Tommy Manotoc, earning him the moniker 'Defensive Specialist.'
When the Redmanizers disbanded after the 1984 season, Israel was taken in by Tanduay and won a number of championships playing alongside the great Ramon 'El Presidente' Fernandez.
After Tanduay folded up four years later, its franchise was acquired by Purefoods Corp. under Don Jaime Zobel de Ayala, with Israel among the players retained from the previous team along with Fernandez, Freddie Hubalde, JB Yango, Willie Generalao, Vic Sanchez, and Onchie dela Cruz, joining young stalwarts Patrimonio, Codinera, Lastimosa, Glenn Capacio, the late Jack Tanuan, Totoy Marquez, and Al Solis to form a powerhouse lineup.
But Padim's stint with the Hotdogs only yielded a couple of runner-up finishes and he won't win another championship until he transferred to Presto in 1990 when it ruled the All-Filipino conference. The Tivolis would be the last team Israel played for until he retired in 1992.
In all, he played 12 seasons as a pro and won a total of nine championships playing in 564 games and averaging 4.6 points.
"The very first Purefoods team I was part of it in 1988, that's why this is the only team I can cheer for now because it's the only team that I played for that still exists," said a smiling Israel.
"So lahat ng teams na napaglaruan ko either na-disband or doesn't exist na."
Once in a while, he gets to be in contact with his former teammates during get-togethers.
"Rarely, only when we have reunions, when we get invited to birthday celebrations, yun lang," said the 6-foot-3 forward, the league's Most Improved Player in 1985 and a member of the second Mythical Team and All-Defensive Team in 1986.
Asked who among the current players reminded him about his game, Israel couldn't single out any one as he himself admitted, he doesn't watch the games on a regular basis.
But there's one Magnolia stalwart who easily caught his fancy.
"Si Ian Sangalang," he said, noting how the big man out of San Sebastian tried to hold his own against four-time MVP June Mar Fajardo of San Miguel.
"And the present day players are stronger and fitter," Israel noted.
And he isn't bothered that San Miguel is on course to winning a fourth consecutive Philippine Cup title, which would equal the feat achieved by his former team Crispa from 1979 to 1984, although no All-Filipino conference was held in 1981 and 1982.
Israel said it's hard for him to compare the Crispa team of his time to the current San Miguel ballclub.
"It's a difficult question to answer for me right now. But for me the most prestigious conference is really the all-Filipino," he said. "So if they can make it four straight, then that's good."
Married to popular actress Rio Locsin, with whom he had three children (Paula Bianca, Costa Palma, and Joses Charisse), Padim devoted his time preaching God's words upon retirement. He was ordained minister of the Word in 1988 by the Christian Reformed Church of the Philippines and once served as associate Pastor of Bread from Heaven Christian Fellowship.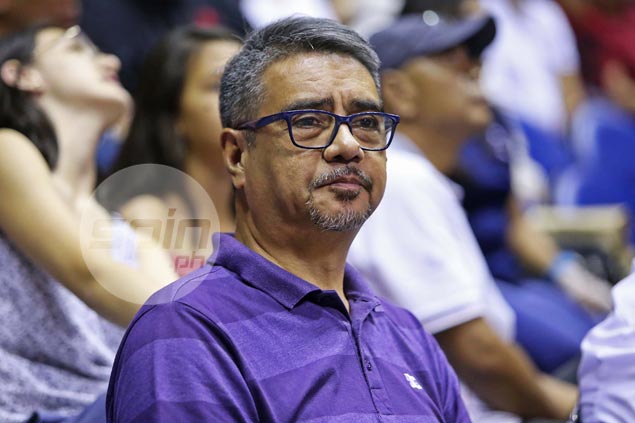 "But semi-retired na rin ako from Ministry," he disclosed. "What I'm basically doing right now is I'm a preacher on call, so I get invited by churches and groups to speak before them."
Through it, he found a way to remain connected with his former ballclub.
"As long as they needed my services, I'm always here for them," said Israel.
"Like them (Purefoods), I also try to age gracefully," he added with a smile.