NEW Petron coach Olsen Racela can very well stand on his own and former national coach Rajko Toroman's overwhelming presence on the bench may only stunt his growth as a full-pledged coach.
Rain or Shine coach Yeng Guiao aired this fear after coaching against Racela on Thursday morning at the Acropolis Gym  in a PBA preseason game that saw Toroman play an active role on the Boosters bench.
"With what Rajko was doing during the game, feeling ko lang, baka kasi ma-stunt ang growth ni Olsen bilang coach," said the veteran Guiao after the Painters beat the injury-plagued Petron, 101-98. "At the same time siyempre, baka naman mawala yung respect sa kanya ng mga players kasi si Rajko ang nagco-coach."
Guiao believes Racela is ripe for the head-coaching duty, given the experience he had playing for distinguished coaches like American mentor Ron Jacobs, Jong Uichico and Chot Reyes who all had handled the former San Miguel Beer (Petron's previous name) star.
"I feel ready na naman si Olsen for the job," added Guiao.
At the same time, Guiao said he feels the pro league should eventually clarify Toroman's position in the team, especially if the newly designated Petron assistant coach continues to play a bigger role than his current position calls for.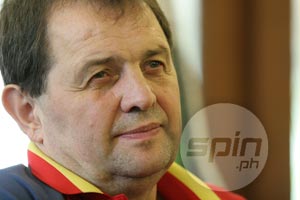 For his part, Basketball Coaches Association of the Philippines president Chito Narvasa said he is willing to cut Toroman some slack, given that the new season has yet to begin and the roles on the Petron bench have yet to be clearly defined.
"The league has yet to start, so it's possible na nag-aaral muna si Olsen since bago din lang naman siya. We have to understand that Rajko is a more seasoned coach. So there is nothing much to talk about, maganda bayaan muna natin mag-aral si Olsen," Narvasa told Spin.ph.
"As much as possible, I want every coach to learn the game. If he (Toroman) can offer something, why not?" added Narvasa.
However, Narvasa said if the current set-up remains when the PBA's 38th season begins, that's the time BCAP will have to step in and act on the issue to defend Racela.