FOR two players who were everyone expected to blow up and lose it sooner or later, Renaldo Balkman and Kelly Nabong have done the exact opposite.
The strange bedfellows have been integral to San Miguel's title drive in this 2018 PBA Commissioner's Cup, forming a rock-solid tandem in the frontline while becoming an unlikely calming influence to each other on and off the court.
Not bad for a pair who got embroiled in controversy, no thanks to a volatile temper.
Balkman's meltdown with Petron five years back led to a lifetime ban from the PBA. Nabong got into a lot trouble - and eventually found himself in limbo last October after a bench squabble with then Meralco assistant coach Jimmy Alapag.
Second chances don't come often, and the two were lucky they got theirs.
Two months after his exit from Meralco, Nabong was picked up by GlobalPort where he blossomed into a dependable back-up slotman. He sustained that form until this season when a trade brought him to San Miguel.
Balkman, on the other hand, was granted pardon by PBA commissioner Willie Marcial last March, paving the way for the Puerto Rican national player's return to San Miguel where he now looks to complete unfinished business.
Continue reading below ↓
Recommended Videos
Luck gave the two a shot at redemption; destiny brought them together.
"You know, that friendship that we have, I'm trying to change his image. Whatever case it may be, the PBA has known him for hard fouls, hitting people, and cheap shots. And I got banned from this league five years before. I've known my lessons and I kept on moving forward. That's what I installed in him when I talk to him," Balkman said.
Balkman is a former NBA player who is on a mission to prove that he is far from done at age 34. But he didn't hesitate taking Nabong under his wing as soon as the bruiser arrived in a trade from GlobalPort.
"Yeah, I knew what type of guy he was. They already told me," he said. "And I told him the first day he was there, 'Bro, they got you here for a reason. Don't (expletive) it up. Don't mess it up because this is a great thing for you.'
"I told him you could be here forever if you stay professional. They got a winning record and you don't want to go back to a team that's not winning, where money was an issue. Now you're in a team where money is great and there's no issue nowhere. So don't mess it up. Keep on pushing, keep on fighting, and you'll be here forever."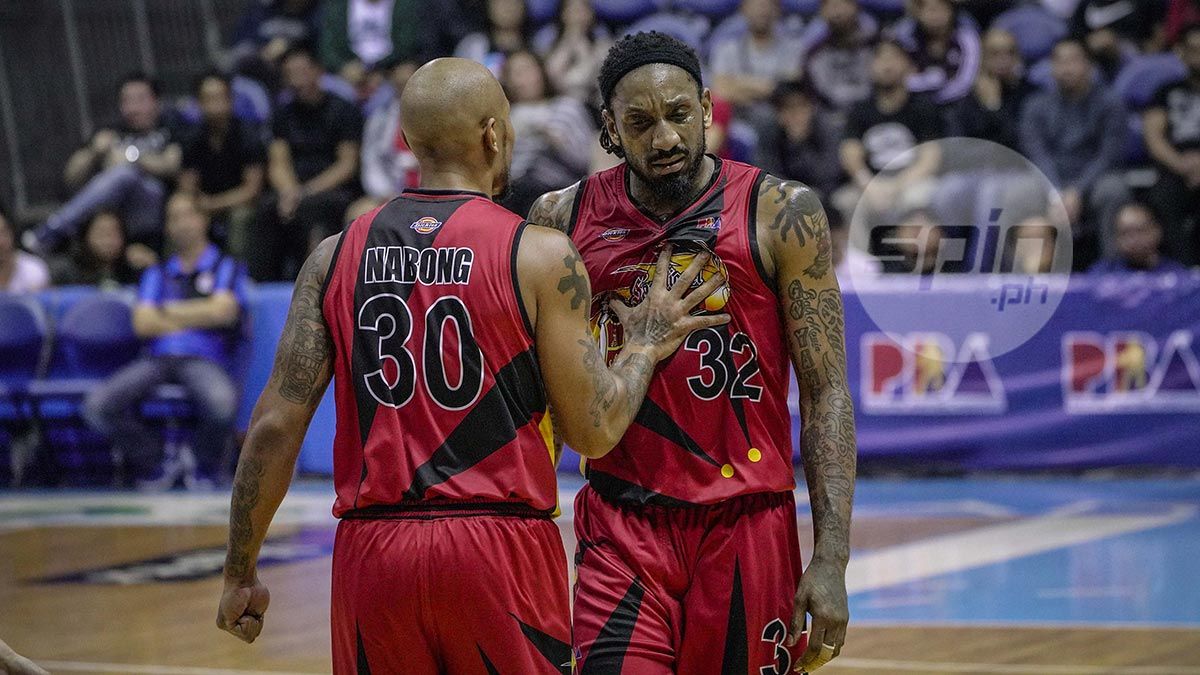 Balkman proved that he's already a changed man in his championship run with San Miguel Alab Pilipinas, showing tremendous poise and patience in the heat of the battle in the regional league.
He has now made it a point to impart those lessons to the 29-year-old Nabong, with the Fil-Am bruiser often seen smiling a lot more in the short time he has been with the Beermen than at any time in a rocky six-year PBA career.
And so far, the results have been evident.
Roger Pogoy tried to goad Nabong after the latter's hard foul in San Miguel's quarterfinal faceoff against TNT in the PBA Commissioner's Cup. Rather than engage, the firebrand kept his cool and walked away.
"I can't go out there and act like a fool, start pushing people, and start punching people," Nabong said. "I'm just here to win."
Balkman is happy to see that his friendship with Nabong has become a positive influence on his younger teammate.
"I talk to him everyday about staying professional no matter what it is. You're on a great team right now. You know all the things you did before, so don't mess up what you got. What you got going on is good right now because once it's gone, it's gone forever."
Balkman continued: "Whatever you need to do, remain focused, do it. If you want someone to speak to, come yell at my ear. I'mma talk to you about it and I'll do the same thing. If I get frustrated, I look at Kelly. It's the same thing, the same thing applies."
Nabong maintains he hasn't changed one bit, but rather, it's the environment around him that has changed.
For the better.
"I'm still the same person. I'm just on a winning team now," he said. "All the players here are good influence on each other. It's not just me and Balk. It's me and Chris (Ross), me and Marcio (Lassiter), the whole team. From the first five to the ballboys, we all support each other and we're all there for each other."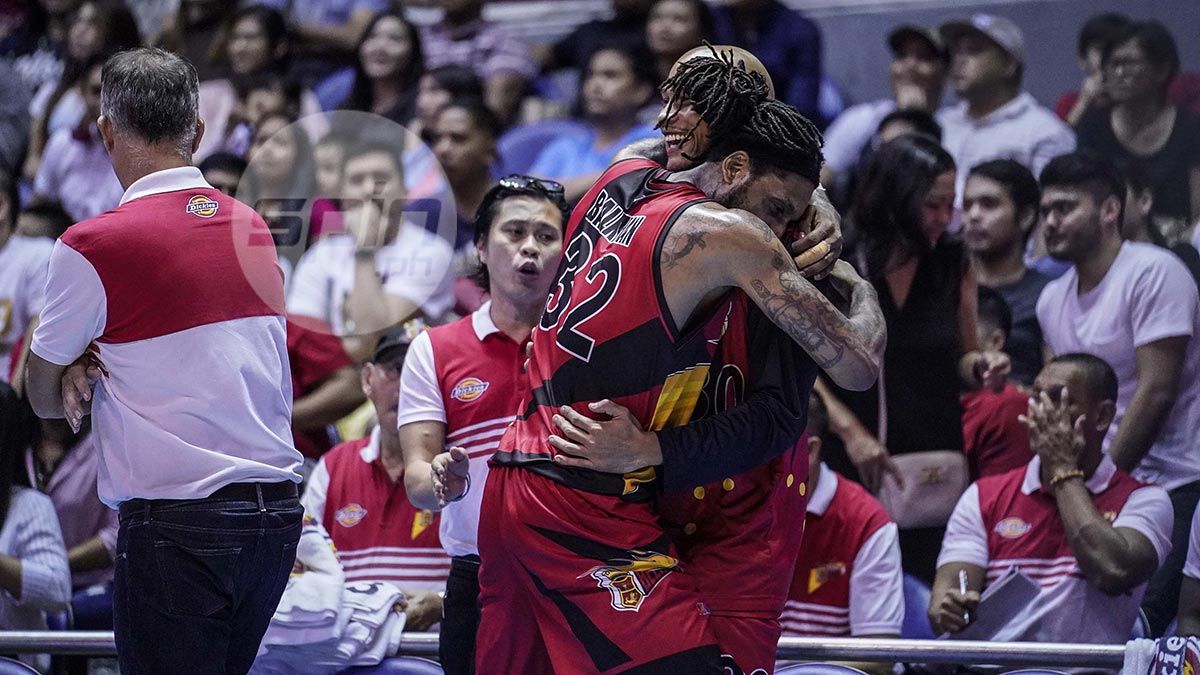 For Balkman, winning a championship with Nabong will be the perfect exclamation point to quest for redemption in the PBA.
"It will be great. This would be his first one and my first one, too. I'm not trying to sound arrogant and saying nothing crazy, and we're taking it one game at a time. But it's gonna be special, to have a guy like that on my team and the things he had to go through in his career and just playing here. What I went through, too, both of us," Balkman said.
"And now, we're in the same team and doing great things together. It's going to be special," Balkman added.