NOLI Eala declined to question PBA commissioner Chito Narvasa's decision to approve a controversial trade that sent top draft pick Christian Standhardinger to powerhouse San Miguel, but knew for certain what he would've done if he were in Narvasa's place.
A special guest on Wednesday in retired cager Eric Menk's podcast Staying Major, the former commissioner said the current league chief should consider stepping down in the face of an issue that has divided the board and left the PBA in an impasse.
"Commissioner Chito [Narvasa] is under the gun here. He cannot govern without the full support of the board. It's going to be very difficult. And if I were him, I would consider having a transition, I would consider leaving," Eala told Menk.
However, the former sportscaster refused to take sides in the controversial pre-draft trade between KIA and SMB that prompted seven teams to declare a loss of confidence and withdraw support.
"I've made it a policy for myself not to second guess any commissioner. His job is tough enough. It's not gonna help that another commissioner is looking over his shoulders. That's out of respect for him. I had that respect from my predecessor, and I give that to them," he said.
"There are two sides always in a trade, you cannot take it away from teams to get better and you cannot take away from teams to complain," Eala added.
"The commissioner's job is to balance these two, the ones who want to get better and those saying that is not fair to us. It becomes difficult because a trade must be taken under certain circumstances and must be evaluated based on how the commissioner sees the current situation in the league. I don't want to comment on what commissioner Chito did."
Eala, who served as commissioner from 2003 to 2007, disagreed with how the issue was handled by rival factions in the board as well as Narvasa's complete disregard of the majority bloc's concern.
"The commissioner will be facing trades that are controversial, and as I said some teams need it to get better, and some teams won't like that. They will see an unfair advantage. But the solution to me is not firing the commissioner but coming up with a policy that will ensure that the commissioner has parameters in deciding trades," he said.
One policy, Eala recommended, is to disallow expansion ballclubs to trade draft picks in their first five years, the league minimum for any new franchise.
"That ensures the talent will go to you and you have the responsibility to develop a real team," he explained.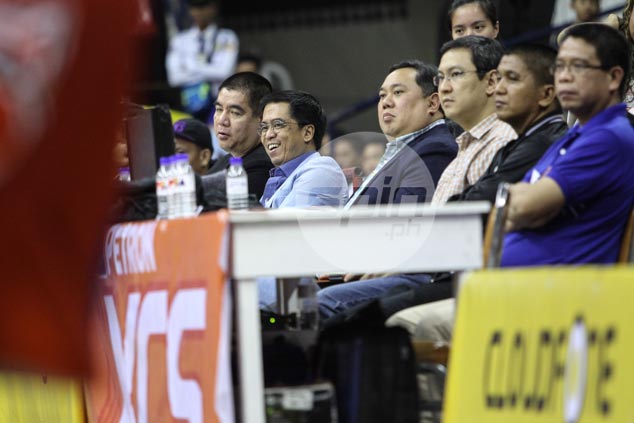 The other recommendation is free agency, which Eala felt he should've seriously considered during his term as commissioner. Now he clearly sees the urgency with the league growing to 12 teams.
"I failed to see that then, but now in the last few years, I was expecting the PBA would evolve. Now with the expansion program, they have 12 teams, they have more players, there is a need to review the way contracts are built," he said.
"I really think the PBA has to evolve. I understand they have a rule for rookies now, where after a certain number of years, some kind of free agency, after five years they can choose, maybe that's a start. I honestly think all these controversies with trades can be, not eliminated, but minimized if you allow players to look for their own teams." Eala added.
With the PBA board set for its planning session in Los Angeles on Friday, Eala admitted he's a bit anxious that the issue will be 'swept under the rug.' He sees the impasse stalling any supposed plans the league board can come up with to sustain the momentum of a record-setting finals series, unless Narvasa makes 'the ultimate sacrifice.'
"It's not easy to hear that you have seven teams not supporting you. It's even harder that these seven teams think that you are biased for the five," said Eala, who was quick to defend Narvasa. "I know he's not. I've known him a long time. He may have had a few decisions that were questionable, but he has all the good intentions for the league. All commissioners do."
"This impasse will have to be broken by the commissioner. He will have to make the ultimate sacrifice for the league. I know Chito doesn't need the position, he's a self-made man. At the end of the day I think he will make the right decision."