CHICAGO - Rookie NBA referees, according to Dr. Kelly Meier of Career Trend, make a starting salary of $250,00 a season or a cool $3,048 a game. The more experienced ones get twice as much, $500,000 at $6,097 per.
Veteran refs who are assigned to playoffs games make $9,000 per assignment, while the really good ones who get the rare nod to call the NBA Finals collect $29,000 a game, according to Interbasket.
I don't know how much PBA refs make in salary but a 2015 SPIN.ph story by the inimitable Snow Badua revealed that our whistle blowers take home as much as P40,000 or $754 a month.
While the disparity in pay is night and day, PBA referees perform the same tasks as their American counterparts. They enforce the rule book and shape a game's fair outcome by making trigger-quick decisions multiple times in the course of a fast-paced 48 minutes or more of action.
ADVERTISEMENT - CONTINUE READING BELOW ↓
The physical demands are the same, too.
Deldre Car, who refereed the 2014 March Madness, told The New York Times that a Nike FuelBand he carried in his pocket calculated that he ran approximately 5.5 to six miles a game.
PBA referees shoulder the same burden as well. They cover the same distance officiating in an equally punishing floor length of 94 by 50 feet.
PBA refs toil just as hard chasing after wing-footed locals such as Jayson Castro or Fil-foreign hybrids like Christian Standhardinger.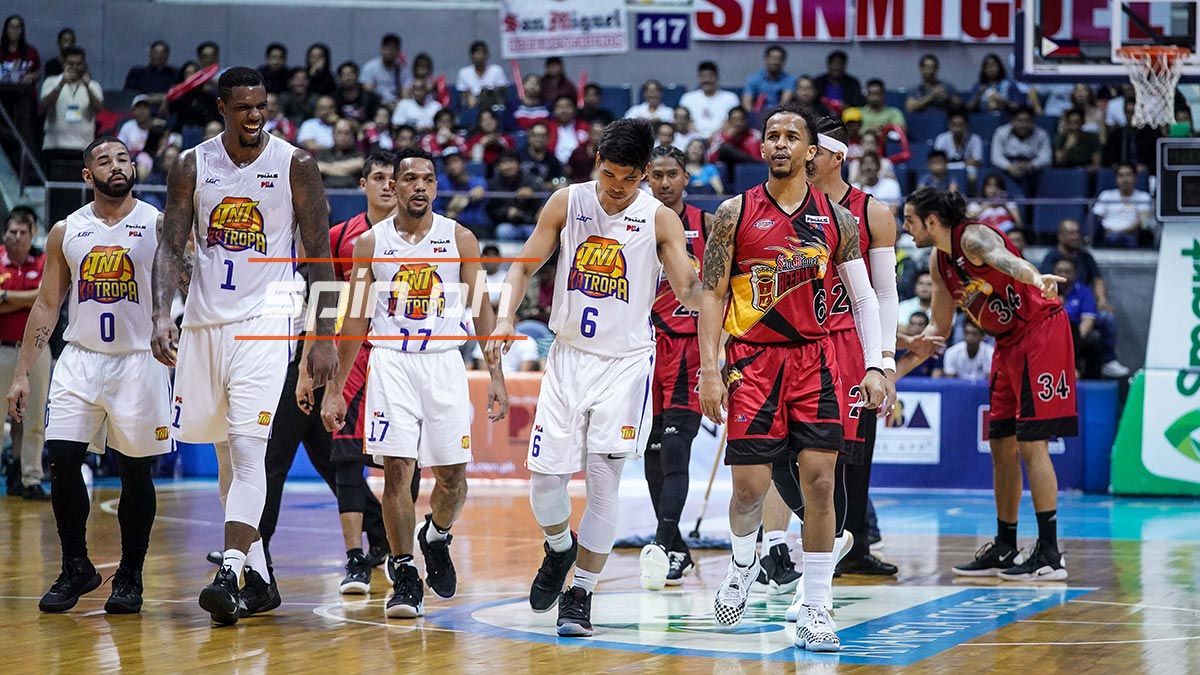 ADVERTISEMENT - CONTINUE READING BELOW ↓
Physical fitness is a job requirement because physical fatigue during a game leads to a state of mental fatigue, which causes slow reaction time and horrible calls. PBA refs, compared to their NBA peers, may be lighter on the wallet but they're just as heavy on the exercise.
Back in 2003 a lawyer and Ateneo alum named Grainoil Uy Baysa-Pee, who placed 10th in the 1999 BAR exams, tried out to be a PBA referee. I thought he was crazy to come down from a lofty perch and attempt to moonlight for a job where the pay is relatively low and the respect level is even lower.
I was wrong to doubt Baysa-Pee's motives. Refereeing is a calling almost akin to priesthood. Many are summoned. Few are chosen.
Refs never get praised. They just get screamed at and ridiculed as either scapegoats or villains.
In a few hours, when Game 5 of the PBA Commissioner's Cup Finals unreels, the referees will be on the spotlight again. Not only will they be expected to make sure law and order is established, they must also stem an epidemic that has plagued this otherwise highly-entertaining showdown.
ADVERTISEMENT - CONTINUE READING BELOW ↓
FLOPPING.
As it relates to basketball, the dictionary defines flopping "as the action of deliberately falling or stumbling in order to give the appearance of having been fouled by an opponent."
In this ongoing best-of-seven championships, flopping is a synonym for TNT import Terrence Jones and SMB spark plug Chris Ross. Jones has so far been officially assessed with three flopping infractions. Ross only has one but that doesn't necessarily mean he didn't do it more. It only means he just got caught once.
Jones flops to exacerbate the contact he gets from a swarm of Beermen defenders. Ross does it to put KaTropa players in foul trouble while soliciting free throws and free points. Annoying the other side is his happy chore.
Flopping is often construed as gamesmanship. It is not. Flopping is garbage.
ADVERTISEMENT - CONTINUE READING BELOW ↓
Jones is too good. That's why he is the Best Import. He doesn't need to embellish hostile contact and get the refs' sympathy. The Beermen aren't mugging him, it's harmless love tap that he can rise above.
Ross is a seven-time PBA champ. He's highly-skilled, but a bad actor. If Ross and SMB want to stop Jones, they must defend him better, force the former Houston Rocket to give up the ball. Goading him into a fight hoping he would be ejected through technical fouls is cowardly.
So here's hoping that we have a clean Game 5. Devoid of falls and crashes from phantom hits and minus the foolish extra-curricular stuff. Good luck to tonight's referees who will oversee the mayhem.
And let's pray that they remember this: To flop is human. But to catch the offender is divine.
PBA Updates