NO team experienced growing pains, emphasis on pains, more than the NLEX Road Warriors in the 2017 PBA Philippine Cup.
Entering the season, the Road Warriors had high hopes especially under a new leadership after Yeng Guiao took over from Boyet Fernandez as coach — a move expected by many to turn things around for a stalled franchise and push NLEX to deep playoff runs, possibly titles, the same way the feisty mentor had led his teams in the past.
The roster also got some upgrades on paper, adding scorer Carlo Lastimosa via trade to a young, promising backcourt led by Kevin Alas and Garvo Lanete. The vaunted frontcourt bannered by Asi Taulava and Sean Anthony also got a big boost with the arrival of Bradwyn Guinto.
With mainstay bruisers and veterans like Jonas Villanueva, Mac Baracael, Eric Camson and Glenn Khobuntin, NLEX looked to have the same ingredients of lesser-known but tough-as-nails players that Guiao has previously turned into a title-contending unit.
In fact, SPIN.ph went so far as to put NLEX among the middle-of-the-pack teams, seventh to be exact, in our Philippine Cup preview. Should Taulava and the rest of the bigs adjust well to the fast-paced offense Guiao has been known for, the transition to elite status would naturally follow for the Road Warriors, we wrote.
Continue reading below ↓
Recommended Videos
The potential showed right in NLEX's season debut, beating a top contender in the Alaska Aces in an overtime thriller last November. But that would prove to be NLEX's shining moment in what soon descended into a gloomy debut conference under Guiao.
The Road Warriors went on a five-game losing streak, and all by blowouts as they lost by an average of 16.8 points in that span. After a morale-boosting win over sister team TNT, NLEX closed the conference winless in its last four outings, again all by double digits, and fell to last place with a 2-9 card.
What went wrong for the hyped-up Philippine Cup campaign of the Guiao-era Road Warriors? There's no simple answer here, but some would be quick to point out Taulava's headline-grabbing trade demand mid-conference after getting minimal playing time this season.
Taulava went on to have a change of heart, accepting his new role and a rocky transition to a team that led the league in pace (or the estimate number of possessions per 48 minutes). The uptempo style did not do well for the 6-foot-9 slotman, who turns 43 this March, as his numbers showed:
Last Philippine Cup (started all 11 games): 33.2 mins, 19.7 pts on 50.3% shooting with 13.5 attempts, 12.1 rebs, 28.5 usage (percent of plays called he used while on the floor), 24.7 PER (player efficiency rating)
This year (started 4 of 10 games): 12.2 mins, 3.3 pts on 33.3% shooting with 3.3 attempts, 3.1 rebs, 19.6 usage, 4.4 PER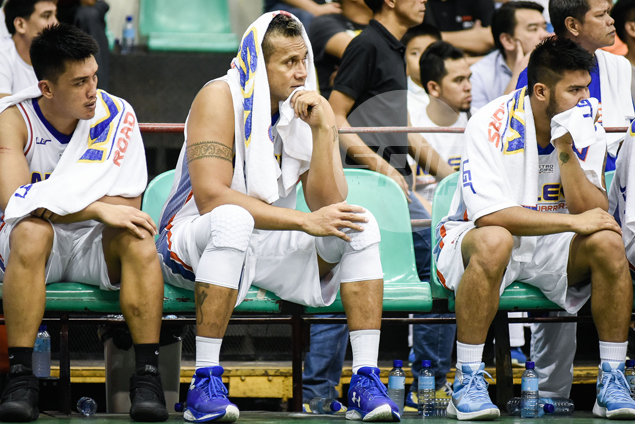 The usage drop could be minimal as Taulava still managed to end up with the ball when he's on the floor, but the problem was he couldn't stay on the court for long. With his playing time almost a third of the span he enjoyed last year, Taulava's efficiency and impact crashed.
But the fate of the team doesn't rest on one player alone, especially in a squad run by Guiao where his fast-paced system requires constant lineup changes for fresh legs on the floor. Looking at the rest of the NLEX roster, almost all of them took a hit with their playing time, with only a few players seeing their minutes and numbers slightly rise.
Double-double machine Sean Anthony went from averaging 20-11 in 34.9 minutes to 14-10 in 26.2 minutes. Kevin Alas saw his playing time dip even as his production improved. Carlo Lastimosa sputtered as his PH Cup scoring average fell by almost four points in two less minutes compared to last year. Guinto stayed a solid offensive option but his rebounding numbers got slashed by almost three boards less.
Overall, nobody in the NLEX roster suffered a drop in production as significant as Taulava. So the question still remains: how did NLEX, who pushed the tempo more than Guiao's Rain or Shine team last year, stumble from a mediocre team last year to the bottom of the standings?
Looking at the stats, this year's version of NLEX stalled on both ends of the floor, but the glaring stat is team defense. Compare these numbers by NLEX last year and this conference, along with Guiao's Elasto Painters team last Philippine Cup for reference.
Guiao's ROS last PH Cup: 101.6 pts (1st), 45.4% FG (1st), 95.2 pts allowed (6th), 41.8% Opponent FG (3rd), 98.2 pace (2nd in the league), 104.2 Offensive Rating (points scored per 100 possessions, 2nd), 96.5 Defensive Rating (points allowed per 100 possession, 4th)
NLEX last PH Cup: 93 pts (9th), 41.7% FG (10th), 93.9 pts allowed (3rd), 43.5% Opp FG (7th), 92.5 pace (9th), 99.6 ORtg (7th), 100.6 DRtg (6th)
NLEX this year: 91.1 pts (10th), 40.5% FG (11th), 101.5 pts allowed (last), 45.9% Opp FG (last), 101.2 pace (1st), 89.2 ORtg (last), 99.4 DRtg (7th)
The thing that saved Fernandez's NLEX team last year was its defense-first approach that led to a plodding pace and a mediocre offense. Guiao had hoped to bring his efficient offense and stingy defense from last year's RoS team (the only squad other than eventual champ San Miguel to be in the top four of both offense and defense ratings) to his new version of the Road Warriors.
Guiao and his wards can't be faulted for not trying, though, as they indeed pushed the pace the most, but the offense got worse and the defense fell apart. NLEX wanted to run, tried to run, but ran short in finishing plays, finding open teammates, running back on defense. Opposing teams just imposed their will on the Road Warriors in the paint and beyond the arc. Plus they're the second worst team in turnovers made while forcing the third fewest errors on their opponents. They're also in the bottom three in both steals and blocks.
Offense-minded teams encounter off nights, but the thing that got Guiao riled up for almost the entire conference with nightly 'sabunan' sessions on his team is the lack of effort he saw on the defensive end. Granted, adjustment periods take time. Guiao's past teams did not turn into contenders overnight or in one conference. But the weaknesses in his unit are glaring, something the fiery coach intends to address ASAP.