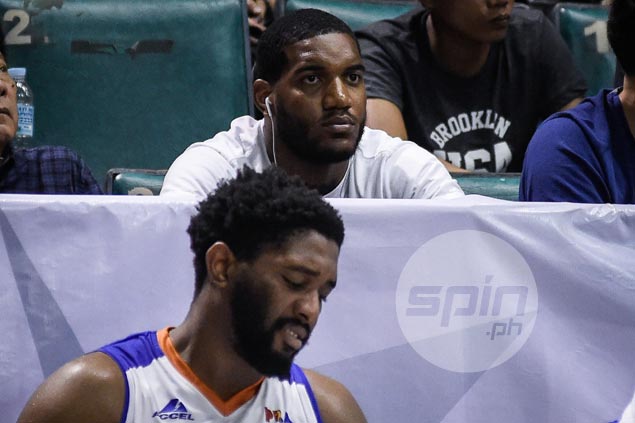 DESPERATE times calls for desperate measures.
TNT KaTropa management has flown in Mike Myers as possible replacement for hurting import Joshua Smith.
Myers sat behind the team bench Saturday night as he watched Game 4 of the PBA Commissioner's Cup semifinals that saw the Texters eliminate Barangay Ginebra Kings, 122-109, at the Astrodome.
[See 'The Blur' takes over as TNT ousts Ginebra to arrange finals showdown against SMB]

The new import stands 6-foot-8 and is a native of Camden, New Jersey. He came over early Saturday morning on short notice when the Texters felt they needed another import in the light of the torn ligament Smith suffered on his right toes during Thursday night's Game 3.
Shortly after the loss, management had an emergency meeting that took place until the wee hours of Friday, where it was decided that Myers had to be brought in as soon as possible.
Fortunately, he is available at the moment.
"He was also in our list as import this conference, but we tapped Dontay (Green) and Joshua ahead of him," disclosed team manager Virgil Villavicencio after TnT wrapped up its best-of-five series against Ginebra, 3-1.
'We're just fortunate na wala siyang pinaglalaruan when we contacted his agent on short notice."
Smith played through the injury and ended up with 18 points and five rebounds in 21 minutes, but was obviously in pain for most of the game.
Villavicencio said management will still has to sit down with the coaching staff and decided whether to retain Smith or not.
"Gusto niyang (Smith) maglaro at mukhang kaya naman," said the TnT official. "We still have to meet. We'll see."
Villavicencio also noted the three-day respite the Texters will have prior to Game 1 of the title series starting on Wednesday, giving Smith ample time to rest - and hopefully, recover - from the injury.
ADVERTISEMENT - CONTINUE READING BELOW