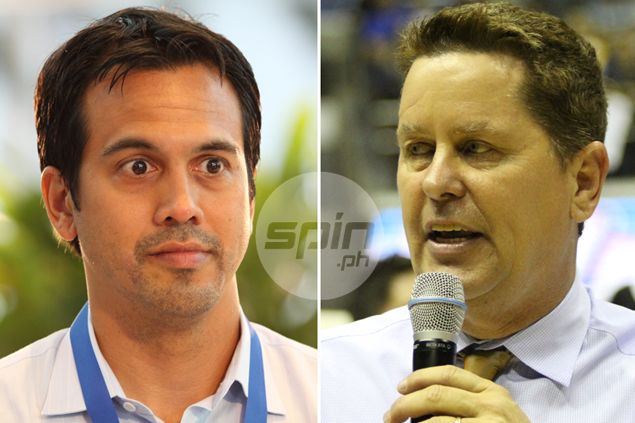 TIM Cone had a grand vacation befitting a two-time grand slam coach.
Getting a much-needed break after a run of four successive PBA championships with San Mig, Cone took a vacation with his family in the US which was also highlighted by meetings with Miami Heat coach Erik Spoelstra and a chance encounter with the great Phil Jackson.
Cone, the most successful coach in PBA history in terms of championships won with 18, said he met with Spoelstra a few times at the Fil-American coach's hotel when he went to watch the NBA Summer League in Las Vegas.
"I met with Erik Spoelstra a number of times including having breakfast with him at his hotel," Cone told Spin.ph on Thursday, three days after returning to Manila.
Spoelstra has guided the Heat to four straight NBA Finals appearances, including back-to-back championships in 2012 and 2013, yet Cone came away impressed with the Miami head coach's attitude.
"The one thing about Coach Erik is that he's a learner," noted Cone, himself a longtime student of the game. "He's always out there searching for new things to learn and incorporate in his coaching."
This early, Cone said Spoelstra is finding new ways to develop an offense that could make up for the huge scoring void left by four-time NBA MVP LeBron James, who rejoined the Cleveland Cavaliers last month.
"At this point, he's trying to develop an offense that will be able to make up for some of the absence of Lebron James," said the 56-year-old San Mig coach.
"He's looking for a more player movement offense, not just ball movement.  He seems intrigued by the triangle (offense), but is even more intrigued by its principles which he would like to incorporate into an offense that he develops," he added.