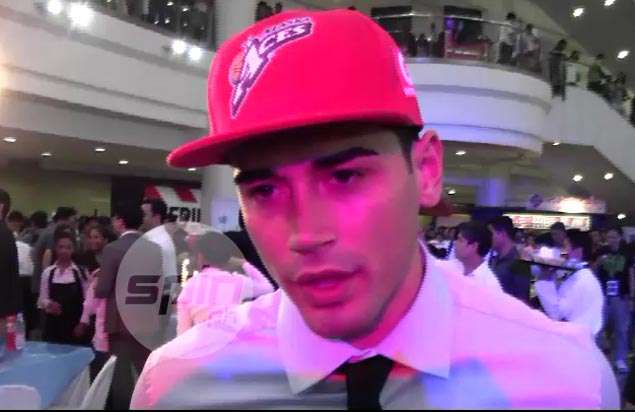 NOT a few people were surprised to see San Miguel Beer trade up to No. 3 overall in the PBA Rookie Draft then pass up on the one player it was expected to draft.
'Surprised' may actually be a mild term.
The Beermen parted with Chico Lanete, Jojo Duncil, a first-round pick in 2016 and a second-round pick in 2014 to get their hands on the third selection overall, which most pundits expected to turn into Chris Banchero.
But instead of tabbing a player who stood out in San Miguel Beer's run to the Asean Basketball League (ABL) title in 2013 under now Beermen coach Leo Austria, the flagship franchise of the SMC group opted for former San Sebastian gunner and Gilas cadet Ronald Pascual.
The furor over the snub was understandable.
Together with No. 1 pick overall Stanley Pringle of GlobalPort, the six-foot Banchero was highly regarded as a point guard who can give the Beermen's backcourt - one of the shaky points in the team's lineup last season - a major upgrade.
In contrast, the sweet-shooting Pascual was seen as a duplication of Beermen mainstays Chris Lutz, Marcio Lassiter, Ronald Tubid and his fellow Kapampangan Arwind Santos.
"Allowing Chris Banchero to slip down the drafting order was one of the biggest surprises I saw in my life," said one PBA star who asked not to be named. "Honestly, I know Ronald is a good player. But I don't think he is the person that San Miguel needs right now."
On the other hand, Asi Taulava, who teamed up with Banchero in San Miguel's ABL champion team, only has the highest praise for the Fil-Italian's skills and work ethic.
"I know Chris. He has a lot of talent. He has the discipline. He spends extra hours at the gym with me without you asking him. You know what he can do," Taulava said.
ADVERTISEMENT - CONTINUE READING BELOW
Ironically, Taulava's new team, NLEX, also passed up on Banchero, opting for Matt Ganuelas Rosser at No. 4 overall.
"Honestly at first I was surprised. But I can't blame NLEX. This company values loyalty to its players more. And I can't question that," said the 41-year-old Taulava.
"Matt is a great addition to us, because of his defensive skills. He is a defensive stopper that's gonna help us at our weaknesses in the backcourt and wings. He plays 1, 2 and 3," he explained.
"Imagine Rosser as a younger (Gabe) Norwood. It was even a big positive to see him at practice today. He covers all our weaknesses on defense at the perimeter."
However, a former coach agreed with the line of thinking that San Miguel needs Banchero more than it needs a player like Pascual.